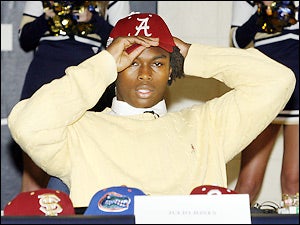 And by "suggests", I mean "said." At least the top recruits do. What could bring on this rumination? Perhaps the upcoming neutral site game between Clemson and Alabama. As part of his job for the big game Clemson's defensive guru, Vic Koenning, is charged with stopping Alabama's newest starting receiver Julio Jones— a 6'4 220 pound true freshman. Both men are from South Alabama which led to this exchange.
"I actually ran into Julio in the spring recruiting. I said hello to him. I said, 'Well, I guess I'll be seeing you at the end of August.' And then he got out and got in his Escalade and drove off. That's serious. And then I went over and watched (Alabama freshman) Burton Scott at Vigor High School at the track over there, and Burton Scott was running around. He went and got in his Escalade out at track practice and drove off. So I'm familiar with those two guys."
Koenning now says he was joking. Right. Jokes often contain the phrase, "That's serious." At least Alabama has a sterling record when it comes to NCAA compliance.
Tiger Tracks
[Charleston Post and Courier]