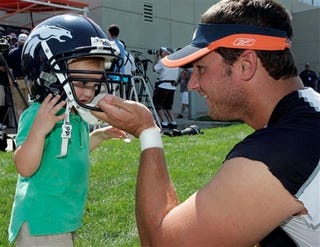 We're less than a month away from the start of the NFL season, so it's time to start the impassioned season previews from various writers, bloggers, diehard fans, cooks, TV personalities, and numerous other walks of life whom consider football the only sport worth watching. Today: The Denver Broncos. Your author is Stefan Fatsis
Stefan Fatsis
is the author of
A Few Seconds of Panic
, which chronicles his summer as a short, weak, old placekicker with the Denver Broncos in 2006. His words are after the jump.I talked to Jake Plummer the other day. He called to say thanks for sending him a signed copy of my book, in which he plays
Shut the Box
, rips Mike Shanahan (on page 316; Broncos executives refer to it as Stefan 3:16) and generally demonstrates that he is a funny, caring, admirable, exceptionally grounded badass. Jake said he plans to read it during an upcoming trip to Machu Picchu and the Galapagos Islands-along with the memoir by his late pal Pat Tillman's mom,
Boots on the Ground by Dusk
. If I can't afford to visit the Galapagos, at least my book will. Jake's been having what he'd call a "sweet" time since voluntarily ditching the NFL and moving home to Idaho after the 2006 season. He's got married (to a former Broncos cheerleader), toured Thailand, played some handball, hit a bluegrass festival, backpacked and camped, even cruised around in a motor home. No regrets, except for how it ended it Denver, when Shanahan benched him for then-rookie Jay Cutler despite a 7-4 record and an easy road to the playoffs. "I miss the competition and I miss rolling to my left and throwing the ball into the gap," Jake said. "But I don't miss the other bullshit." Ah, but the NFL is mostly other bullshit, at least for those paid to play the game. I know,
Drew
, fans don't want to see players as flesh-and-blood people suffering the same workplace indignities and living the same lives of quiet desperation as the rest of us. Fans need to hate, and you can't hate a guy if you learn that he's a faithful husband who has roses delivered to his wife every Monday during the season (when he can't get out of bed because his body feels like it's been run through a trash compactor), a loving father who invents fantastical bedtime stories for his kids (before the combination of Vioxx and Ambien renders him unconscious) and a progressive thinker who agrees with everything Paul Krugman says (but plans to vote for McCain anyway because he wants to pay fewer taxes). I made up all of those examples. So, yes, sorry to spoil the fun, but players are people, too. And that's why it's impossible to know how the Broncos or anyone else will do this season. It depends on whether an offensive lineman has a hammy, on whether some anonymous running back gains 1,300 yards, on whether a wide receiver has lady trouble, on how the guys in the differently colored jerseys play on Sunday. This
prediction
sounds pretty authoritative-except that Travis Henry was cut two months ago. Oops!
FanNation
has some astute analysis: "The Broncos are good."
These experts
say Denver will go 9-7. No,
6-10.
No,
8-8.
You want real numbers? Buy
this book
, along
with mine
, of course. Here's what I envision for the 2008 Denver Broncos:
It'll be a breakout year for my buddy tight end Nate Jackson.
On the field? Sure, whatever. But definitely in the creative world. Nate's already a good
writer
, and he makes
music
under the name Jack Nasty, which he swears doesn't refer
to this
. Because newspapers have little idea what's happening on the field during training camp but still have to fill the traditional quota of one news story, one notes column and one profile a day, Nate's hip-hop stylings earned
a profile
in the Denver Post this month. The two reporters assigned to the piece-one to write, one to play the fool on a Web video-compared Nate's music to that of Eminem and Vanilla Ice. Because, you know, they're white, too!
Obligatory football content:
Nate has run with the first unit a lot this summer and should see the most passes of his six-year career. But cuddly, third-year Tony Scheffler should continue developing into an NFL beast. (I kid, Tony; you're not that cuddly.)
Having diabetes will humanize Jay Cutler.
Eh, no it won't. Cutler remains
aloof
with the media, with many of his teammates and with other humans as well. And his father still attends every practice! One day during my time in Denver, I asked the dad a few basic questions about his boy's background. He looked at me with shock and scorn. ``You haven't read any of the magazine stories, have you?'' he said. Really, he did. I wrote it down. Some additional comments, heretofore unpublished, from my sideline interview with Jay Cutler's father: "He was making throws at 10 years old that other kids couldn't." "He picks things up fast. It's evident here. Contrary to what Sal Paolantonio and others said early on. Where they get their information is beyond me.'' "Guys like Kiper and Clayton and them, to this day they still can't get past a quarterback being drafted as high as he was with the record he had. They don't know talent."
Obligatory football content:
I admit, grudgingly, that Jay Cutler is a good quarterback. I hope he's playing in Jacksonville soon.
Matt Prater will make some field goals. He'll also miss some field goals.
When the kid misses them, message boards will flood with comments about how the Broncos never should have let Jason Elam, a 15-year career Bronco (and future Hall of Famer-along with Matt Stover; suck, it
Drew
), leave as a free agent. When, as he did in practice a few weeks ago, Prater makes a
68-yarder
, they will hail Mike Shanahan for letting the over-the-hill Elam hit the road. Earlier this month, visiting training camp to flog my book, I had lunch with Prater and two baby-faced punters who will remind no one of my ephedra-taking,
Saved by the Bell
-watching,
cabbie-slapping
training-camp foil, Todd Sauerbrun, whom I weirdly miss. They all seem like very nice young fellows.
Obligatory football content:
Matt Prater has a compact leg swing.
The Broncos will have a leadership vacuum.
Reporters love to write about "intangibles" like leadership, though they can't define what it means in the context of a locker room because much of what makes a leader is hidden from public view. Plummer was a terrific leader, which in his case involved everything from being the screaming guy whose outstretched palm you slap on the way down the tunnel to passionately lecturing a rookie, as he did in the weight room one day, about the hypocrisy of players who publicly praise God and privately chase women not their wives. This year's Broncos don't have many veterans who have been with the team very long, or players whose talent and personality command instant respect. Champ Bailey is pretty quiet. Dre' Bly isn't, but he seems to be more of a joker than a leader. Brandon Marshall is a stud on the field but has been spending a lot of time off the field talking
things
over with his defense lawyer. The running backs are, as usual, a mystery. And no one will confuse Cutler with Pericles. Does it matter? A surfeit of talent can compensate for a lack of leadership. The Broncos probably don't possess such a surfeit right now. Shanahan has whacked about 80 percent of the players I showered with in 2006, including that team's three bona fide leaders: Plummer, linebacker Al Wilson and safety John Lynch. (Rod Smith, who retired tearfully a few weeks ago, was mostly hurt when I was in camp.) All three were beloved by teammates, and each of their forced departures was as cold as a contract killing. Plummer was benched-wrongly, I maintain-despite amassing a 40-18 record as a starter and taking the Broncos to the brink of a Super Bowl, and then traded even though he told the team he was retiring (which cost him $3.5 million). Wilson was cut after a potentially career-ending spinal injury that resulted in a nasty grievance against the team. Lynch was released amid behind-the-scenes contractual bitterness. Yeah, football's a nasty business. But the departures of Plummer, Lynch, Wilson and Smith mean the following players have been Broncos the longest: center Tom Nalen (just had knee surgery; friendlier than he'd ever admit but not a rah-rah guy), guard Ben Hamilton (back after a bunch of concussions; total softy) and long snapper Mike Leach. Leach is a William & Mary grad whom Peter King last year crowned the
1,000th-best player in the NFL
. (Leach had lobbied to be last.) Mike Leach has the third-longest tenure on the Broncos. "Scary, huh?" he said to me.
Obligatory football content:
Leach's snaps on placekicks make exactly three and a half revolutions.
Mike Shanahan will tell the media that if the players "do the little things right" they'll "have a chance to do something special."
Think what you will about Mike Shanahan, the man knows to handle the media: Say little, divulge less. Sure, people mock his tan and his teeth, but he's not a terrible guy-just, as one Bronco told me, a guy with a lot of power. And the past two years he's wielded that power as indiscriminately as at any time in his career, firing his extremely smart and able GM, Ted Sundquist, along with a passel of coaches. Every Broncos team is Shanahan's team, but this one might as well replace the snorting horse on the helmet with a snorting Shanny. And if it fails? Save the SHANNY-MUST-GO DAMMIT!!!! posts, Broncos fans. Mike Shanahan is your head coach until his contract expires in 2011, and possibly longer.
Obligatory football content:
None. Coaches don't play football.