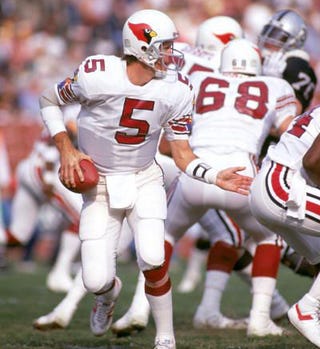 We're less than two weeks away from the start of the NFL season, so it's time to start the impassioned season previews from various writers, bloggers, diehard fans, cooks, TV personalities, and numerous other walks of life whom consider football the only sport worth watching. Today: The Buzzsaw That Is The Arizona Cardinals. Your author is Will Leitch. Will Leitch is the founding editor of Deadspin and a contributing editor at New York Magazine. He also writes, improbably, for The Sporting News magazine. He has written three books, of which you own only one, if you own any at all. His words are after the jump.
————————————————————— As I discovered when I wrote
one of my first pieces for New York
— and I am writing plenty over there, thanks for asking — you can tell a lot about a team's history from their quarterbacks. In fact, you can tell pretty much everything. Considering
the chaos involving the Buzzsaw's current quarterback
, I thought I'd take a look back at every Cardinals quarterback since the team moved to Arizona in 1988. It's the special 20th anniversary season! What does one winning season in 20 years look like? It looks like this:
1988
Neil Lomax, 14 games, 14 starts Cliff Stoudt, 16 games, 2 starts Tom Tupa, 2 games, 0 starts This was Lomax's last season, and you know what? Lomax was actually quite good. I'd forgotten about that. Unfortunately, he got hurt late in the season, and the Cardinals, in their first season in Arizona, lost their last five games. As for Cliff Stoudt? He was once pelted by fans with snowballs ...
at a USFL game
. Oh, and Tom Tupa was a punter.
Team Record: 7-9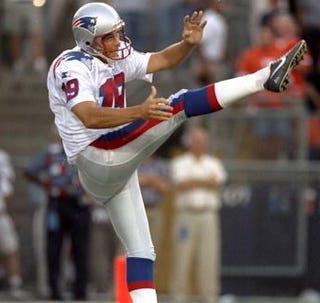 1989
Gary Hogeboom, 14 games, 13 starts Tom Tupa, 14 games, 2 starts Timm Rosenbach, 2 games, 1 start Head coach Gene Stallings was fired midway through this season, probably because he started Gary Hogeboom 13 times. Hogeboom famously — well, maybe not so famously — ended up on
"Survivor: Guatemala."
(The best part about that: It was a "secret" that he was Gary Hogeboom. After he was voted off the island, he "confessed" that he was actually Gary Hogeboom, a former NFL quarterback for the Phoenix Cardinals. The only appropriate response from the remaining survivors was "You're the who from th what now?") Rosenbach made his debut after being selected in that weird supplemental draft that no one really understands. Oh, and Tom Tupa was a punter.
Team Record: 5-11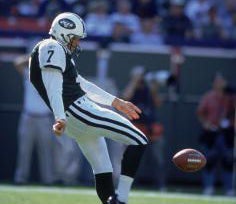 1990
Timm Rosenbach, 16 games, 16 starts The Joe Bugel era begins! Rosenbach starts every game and doesn't have a terrible year, thanks largely to a receiving core of Ernie Jones, Ricky Proehl and Roy Green. The defense was horrible, though, and a 31-0 opening loss to Bugel's old Redskins set the tone for the whole year. However: This is the team that was featured in Super Tecmo Bowl, and it was pretty solid, all considered. Johnny Johnson was unnaturally fast and had three whole running plays, though the game mistakenly labeled him as white.
Team Record: 5-11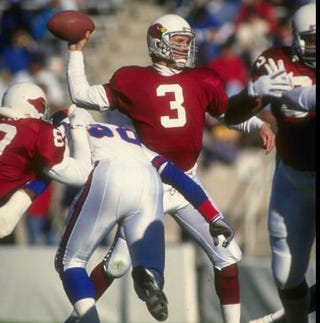 1991
Tom Tupa, 11 games, 11 starts Stan Gelbaugh, 6 games, 3 starts Chris Chandler, 3 games, 2 starts Craig Kupp, 1 game, 0 starts A knee injury in training camp — of course — fells Rosenbach for the season. Send in the clowns. Gelbaugh was once MVP of the World League and a punter for the Saskatchewan Roughriders. Chris Chandler was Chris Chandler; do you realize he started his career in 1988 and is only 42 years old. I'm fairly certain he's gonna try another comeback, and that he will end up with the Buzzsaw. I have no idea who Craig Kupp is. Oh, and Tom Tupa was a punter.
Team Record: 4-12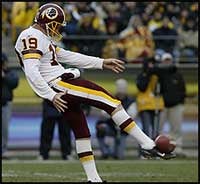 1992
Chris Chandler, 15 games, 13 starts Timm Rosenbach, 8 games, 3 starts Tony Sacca, 2 games, 0 starts Rosenbach returns ... and throws no touchdowns and six interceptions in three losses. (He never plays in the NFL again.) Supposed franchise changer Eric Swann joins the team. Chandler usually throws the ball without falling over. Tony Sacca, sadly, is not
this Tony Sacca
.
Record: 4-12.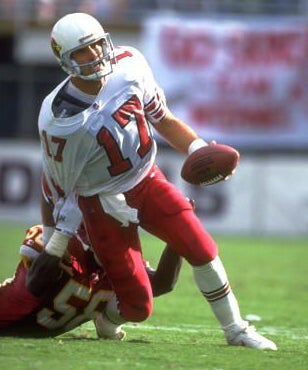 1993
Steve Beuerlein, 16 games, 14 starts Chris Chandler, 4 games, 2 starts The Buzzsaw drafts Garrison Hearst, who continues a long tradition of players being terrible for the Cardinals before excelling elsewhere. (Plus, he
makes some friends
.) Chandler begins his descent into being Chris Chandler by getting hurt. Beuerlein, signed from
the Super Bowl champion Cowboys
, is strangely halfway decent, but not enough to save Joe Bugel's job. Amusingly, owner Bill Bidwill gives Bugel a "win or you're out" edict, the team takes off to win four of its last five ... and Bugel is fired anyway. And hoo boy, look who replaced him.
Team Record: 7-9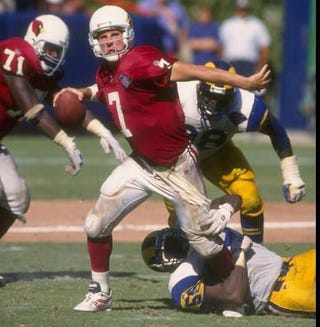 1994
Steve Beuerlein, 9 games, 7 starts Jay Schroeder, 9 games, 8 starts Jim McMahon, 3 games, 1 start Holy crap: We've got a winner in town! So said new coach Buddy Ryan, who brought in Seth Joyner and Clyde Simmons and some sort of weird cowboy hat/visor thing. Oh, and the team is called the
Arizona
Cardinals now, because, hey, we've got a fuckin' winner in town. Temporarily, the defense improves, but the offense regresses dramatically; leading rusher Ronald Moore averages 3.4 yards a carry. Beuerlein loses the starting job. Schroeder is a Canadian football analyst. And hey, look: It's the punky QB known as McMahon! He throws for as many touchdowns as Garrison Hearst.
Team Record: 8-8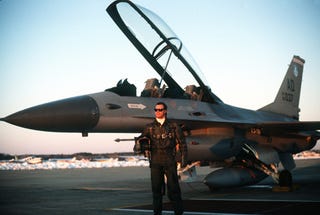 1995
Dave Krieg, 16 games, 16 starts Mike Buck, 4 games, 0 starts Stoney Case, 2 games, 0 starts Ryan, convinced this is the Super Bowl year, brings in Krieg to steady the offense. It improves slightly, but the defense craters as the game of football whizzes by and over Ryan's cowboy hat visor thing, repeatedly. Krieg was 37 at the time but went on to play three more years; he is now a motivational speaker. Buck played long enough to earn
an IMDB entry
. Stoney Case, six years after he was featured in the book
Friday Night Lights
, made his NFL debut, beginning a career that would end with the Tampa Bay Storm of the Arena League. He also once dated Miss Kansas. Ryan is fired, by the way. Obviously.
Team Record: 4-12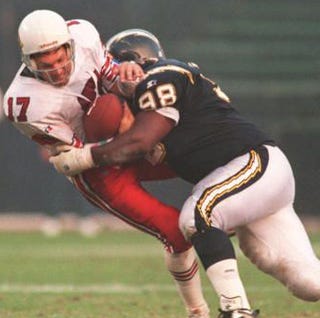 1996
Boomer Esiason, 10 games, 8 starts Kent Graham, 10 games 8 starts The Vince Tobin era begins! With a non-existent running game led by LeShon Johnson, Tobin lets his new QB Boomer go nuts, including a 522-yard outburst against the Redskins. (The Buzzsaw
won in OT
despite Boomer's four interceptions.) Esiason eventually is hurt, of course, which hands the starting job to the unsinkable Kent Graham. He ends up fourth on the team in rushing yards. Kent Graham.
Team Record: 7-9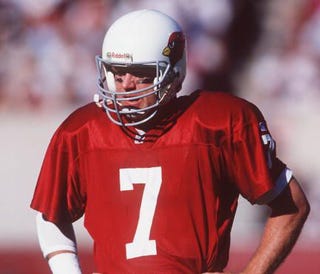 1997
Jake Plummer, 10 games, 9 starts Kent Graham, 8 games, 6 starts Stoney Case, 3 games, 1 start Boomer says he's going to retire in the offseason before changing his mind and signing with the Bengals. No matter: The Buzzsaw drafts local hero Jake Plummer, fresh off his amazing Rose Bowl loss to Ohio State. Bill Walsh famously proclaims that Plummer reminds him of Joe Montana and blasts the 49ers for drafting Jim Druckenmiller instead of Plummer. He's still a rookie, though.
Team Record: 4-12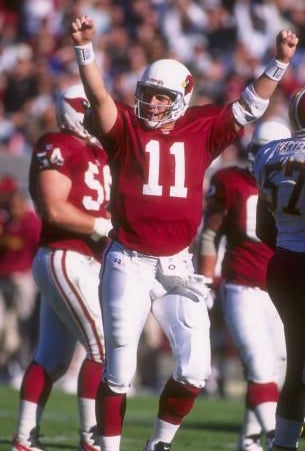 1998
Jake Plummer, 16 games, 16 starts Dave Brown, 1 game, 0 starts After waiting my entire life for a Buzzsaw playoff appearance — the strike year of 1982 doesn't count — I'm rewarded with Chris Jacke's Week 17 last-second field goal to clinch a wild-card berth. The euphoria of this allows us to ignore that Plummer didn't really progress all that much from his rookie year and that the team still gave up more points than it scored. But who cares? (I actually ran around
The Sporting News
newsroom screaming after Jacke hit the field goal. I was quite journalistically impartial.) An upset win over Dallas (in Texas!) in the playoffs officially ends that dynasty, and a loss to the Randy Moss/Randall Cunningham Vikings in the playoffs doesn't hurt that much because, geez, that team's obviously winning the Super Bowl. Times are looking up in Tempe!
Team Record: 9-7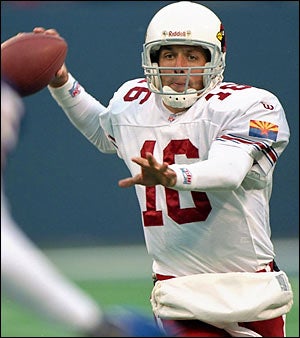 1999
Jake Plummer, 12 games, 11 starts Dave Brown, 8 games, 5 starts Chris Greisen, 2 games, 0 starts Before the season,
The Sporting News
picks the Arizona Cardinals to lose in the Super Bowl to the Jacksonville Jaguars. (I had nothing to do with it.) Oops. Plummer is awful all season — he throws nine touchdowns to 24 interceptions — and Dave Brown ends up starting five times. (And hey, he beat his Giants twice that year. Woo-hoo.) Chris Greisen, amazingly, is still playing, for the Georgia Force of the Arena League. In 2007, he set the league record for touchdowns. Huh.
Team Record: 6-10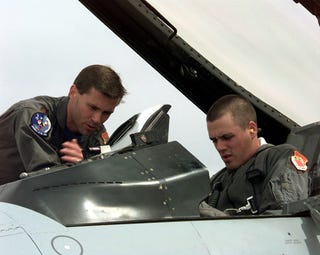 2000
Jake Plummer, 14 games, 14 starts Dave Brown, 6 games, 2 starts Chris Greisen, 3 games, 0 starts The bottom falls out. Again. Plummer is once again terrible, and the Buzzsaw lose their final seven games, costing Tobin his job. He is replaced by the incorrigible Dave McGinnis. The good news! A terrible record allows them to draft Leonard Davis.
Team Record: 3-13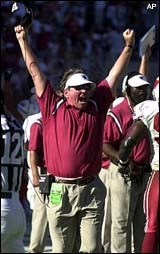 2001
Jake Plummer, 16 games, 16 starts The Dave McGinnis era begins! Before the season, beloved safety Pat Tillman joins the army after the attacks on the World Trade Center and the Pentagon on September 11. Plummer, amazingly, takes every snap and even goes 142 pass attempts without an interception. (He still ends up with 14.) Plummer's leading receiver is David Boston, a preposterously buff wideout who is expected to dominate the league for years.
Team Record: 7-9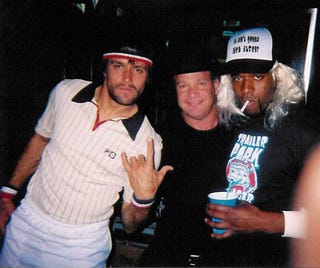 2002
Jake Plummer, 16 games, 16 starts Josh McCown, 2 games, 0 starts A 4-2 start gets everyone excited. Six straight losses, and nine of 10 to finish the season, tempers that a bit. Officially the year everyone gave up on Plummer. But hey: Dave McGinnis is enthusiastic and a presence in the community!
Team Record: 5-11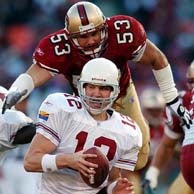 2003
Jeff Blake, 13 games, 13 starts Josh McCown, 10 games, 3 starts The Plummer era ends, and he's replaced by ... Jeff Blake! Get excited, everybody. The real news is free agent signee Emmitt Smith, who is flabulously erratical while running for 256 yards at 2.8 yards a carry. We're intrigued by rookie Anquan Boldin, but, christ, Jeff Blake? Dave McGinnis, you sure do fire us up, but man, it's time to go. By the way, at one point during this season, there was a legitimate quarterback controversy between Jeff Blake and Josh McCown. Hey, Vikings fans ... remember week 17? Nate Poole forever.
Team Record: 4-12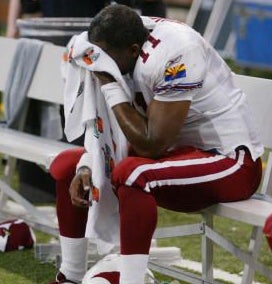 2004
Josh McCown, 14 games, 13 starts Shaun King, 3 games, 2 starts John Navarre, 1 game, 1 start At the beginning of this season, I actually told a friend of mine, "Dennis Green is such an underrated coach. Look out." Ahem. That's not the Shawn King who
sings country music songs
. It's the one who is on ESPN First Take now. In the future, historians will study how John Navarre actually started an NFL game. King and Navarre each throw as many touchdowns as Emmitt Smith: One. Funny thing about this year: The Buzzsaw actually had a winning record with McCown until Green, for no apparent reason, switched to King. King lost two games. Then he switched to Navarre, who lost. Then he returned to McCown. This was a bad omen.
Team Record: 6-10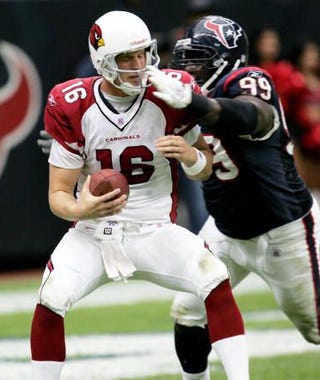 2005
Kurt Warner, 10 games, 10 starts Josh McCown, 9 games, 6 starts John Navarre, 1 game, 0 starts Under the notion that his team was one washed-up, concussed player away, Green brings Warner into the fold. He gets hurt almost immediately but at least throws for a lot of yards. The Cardinals draft Larry Fitzgerald as a target, and Josh McCown repeatedly misses him. Green veers dangerously close to exploding. He was almost there.
Team Record: 5-11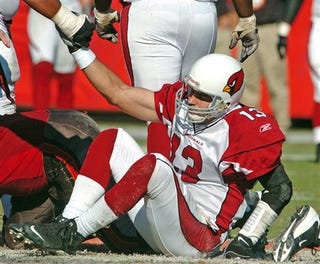 2006
Matt Leinart, 12 games, 11 starts Kurt Warner, 7 games, 5 starts The future is now! Matt Leinart, Heisman Trophy winner, grimaces through the NFL Draft and eventually lands with the Buzzsaw. He has a few flashes of competence and plays the best game of his career (up to that point and, ultimately, in total) on a Monday Night against the undefeated Bears. Unfortunately, the Cardinals collapse in front of the entire country, and Green, uh, loses it a bit. He's fired after the season. Mercifully.
Team Record: 5-11
2007
Kurt Warner, 14 games, 11 starts Matt Leinart, 5 games, 5 starts Tim Rattay, 4 games The Ken Whisenhunt era begins! Leinart, now officially the starter, is terrible before hurting himself and handing the reins back to Warner, who probably can't believe he has played here this long. Whisenhunt looks competent, cleaning up a lot of messes, assuming the quarterback situation will resolve itself. After all, he has a Heisman Trophy winner behind center. What could possibly go wrong?
Team Record: 8-8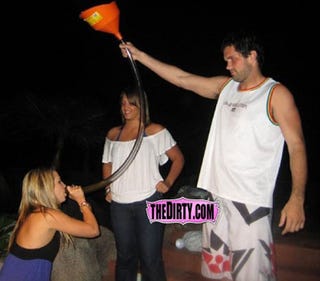 Christ. I can't believe I cheer for this goddamned team.