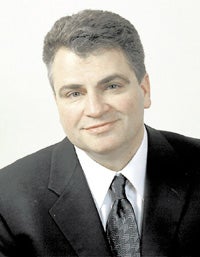 Wow. Based on the enormous amount of emails flooding Deadspin's inbox, you would've thought that there was an assassination of a beloved sports figure or a towering inferno at Yankee Stadium. Nope. The reason for the deluge was because Jay Mariotti, after 17 years of vituperative hackdom, has decided to turn in his leaky pen and Remington portable and is leaving the Chicago Sun-Times . The Chicago Tribune caught up with Mariotti after he'd sent his letter of resignation to get the skinny on why, after recently signing a lucrative 3-year extension with the Sun-Times, he decided to leave:
Just back from Beijing, where he covered the Olympics, Mariotti said in a phone interview that he decided to quit after it became clear while in China that sports journalism had become "entirely a Web site business. There were not many newspapers there." He added that most of the journalists covering the Games were "there writing for Web sites." Mariotti, whose public battles with fellow staffers, team owners, managers, coaches and rival columnists are legendary, didn't disclose any specific plans except to say he will continue doing his regular stint on ESPN's "Around the Horn." He said he "is talking with a lot of Web sites" and added that the future of his business "sadly is not in newspapers."
I'm flabbergasted. More on this later today, obviously, but for now, let's marinate in this new reality: Jay Mariotti... Quits...Newspapers dying..."Talking to web sites"...head exploding.
Jay Mariotti leaves the Sun-Times
[Chicago Sun-Times]
Controversial columnist Jay Mariotti resigns from Chicago Sun-Times
[Chicago Tribune]
Jay Mariotti resigns from his position at the Chicago Sun-Times
[Awful Announcing]