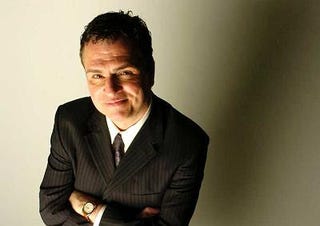 So Jay Mariotti resigned from the Chicago Sun-Times on Tuesday night, prompting a flurry of reaction around the webtubes, a sampling of which we show you here. Most of it's anti-Jay, as you might guess; even this guy refuses to defend him. Mariotti; the only man Lassie ever refused to save from a well. Let's begin.
•
Our Long Civic Nightmare Is Over
. It should come as no shock, given that the paper he works for is about two months away from a toe tag. At the time he signed his new three year contract extension (believed to be worth an absurd $6 million) in June, we joked that it was like Steve Young's $40 million deal with the LA Express. Jay had better have gotten the money up front. He didn't, but in the end, he left it all behind anyway. Who knows the real reason? It can't really be that he sees the Internet as his future. Can it? [
Desipio.com
]•
Star Sports Columnist Mariotti Suddenly Quits 'Chicago Sun-Times'
. The sudden resignation is the latest blow to the personality-driven tabloid. Its most famous writer, film critic Robert Ebert, has been disabled by health problems for the past three years, and its best-known political columnist, Robert Novak, has been diagnosed with terminal brain cancer. [
Editor & Publisher
] •
We Made Him More Famous
. To honor the ongoing resurgence of hockey in Chicago, I'm going to call this one a sister-kisser. As a long-time supporter of this site's mission, I would be remiss to not openly rejoice and celebrate the apparent removal of Jay Mariotti's name from the Chicago sports landscape. After all, it was not Jay's lack of professionalism, smug attitude, or annoyingly pervasive careerism that drove most Jay the Jokers to despise the man — it was the fact that his smarmy persona was endorsed and embraced by a well-known masthead entrusted to the city we hold dear to our hearts. But something feels wrong about stepping away from this once-hideous scene and going to have a cocktail or ten. To do so feels as if we would be following in the tepid footsteps of so many cabin-dwelling teens in horror movies, the ones who just knew that, after a brief scare, that noise was just a tree branch and not a hideous monster that was about to hack them all to death. Those kids should always grab the machete and check outside before going upstairs to get it on in the hot tub. But they never do. [
Jay The Joke
] •
Mariotti Fires Self; Blog Continues Existence Anyways
. It's official, people. We finally got it done. Sort of. Not really. He's probably just taking some time off to write a shitty book and moving to Sports Illustrated or something. Anyways, check out that picture in the link: what the fuck is up with that lighting? Is he holding a flashlight against his chest (pointing up at his face) and telling ghost stories? [
Fire Jay Mariotti
] •
Mariotti Apparently Unaware That Thousands Of Newspapers Are In This "Web Site Business"
. After intense, thorough research by the investigative branch of the Hernia, we've come to learn these crusty, outdated newspapers that now former print columnist Jay Mariotti speaks of, also have accompanying Web sites, some of which resemble their own newspaper; same colors, same logo and amazingly, even the same writers. Wow. We'd like to personally thank Jay for resigning, otherwise we wouldn't be privy to such interesting, seemingly new information. [
The Sports Hernia
] •
Jay Mariott: Savvy?
. Mariotti has somehow managed to parlay his column writing into some level of sports media celebrity status. So, for him, there's not much risk in quitting the newspaper business now, despite not having a clear future. In the short run, he can continue to milk ESPN for appearance fees. In the long term, he'll dupe some site into overpaying him for content as he avoids going down with the newspaper industry. [
The Sporting Blog
] •
But Who Will Tell Me How Bad Our Teams Suck?
. Is today the greatest day in the history of the world? Why yes, yes it is. I'll miss you, Jay. Seriously. I know you may find this hard to believe, but the odds are if it hadn't been for reading you regularly in the Chicago Sun-Times growing up, I never would have gotten into writing about sports. You pissed me off enough that I felt the need to share my own opinion instead of just bitching about yours, so for that, I thank you. Good luck in whatever you do next. [
Foul Balls
]