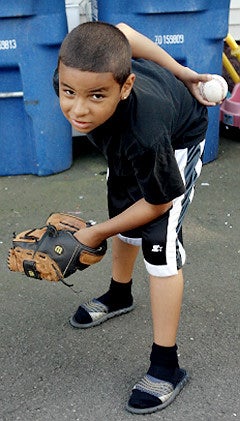 The parents of Jericho Scott, the nine-year-old New Haven, Conn. pitcher who was banned from pitching because he is too good, are officially suing the youth league that is disbanding his team . In response, the league held a press conference to tell their side of the story, and a huge mob of reporters showed up. Meanwhile, David Letterman, Jay Leno and Ellen DeGeneres are all in a mad scramble to be the first to land Jericho as a guest. Well, at least no one is getting crazy over this.
"They won't let me pitch," Jericho, who turns 10 today, told The New York Daily News. "No one's gotten a base hit on me." Jericho's lawyer said his teammates are also joining in the suit, because the Youth Baseball League of New Haven wants to disband their team. "It's not fair to any of them," lawyer John Williams said. "They're being punished for being good." Jericho's team is 8-0. Five of the victories were no-hitters that Jericho hurled. Peter Noble, a lawyer for the coed league, said in published reports that Jericho has no business tossing heat at 8-to-10-year-old batters. "He is a very skilled player, a very hard thrower," Noble said. "There are a lot of beginners. This is not a high-powered league. This is a developmental league whose main purpose is to promote the sport."
My modest proposal: Lower a large tarp over all adults involved and airlift them deep into the Brazilian rainforest. I love a story where both sides are completely wrong. The league needs to grow a pair and let the kid finish the season, which by all accounts is almost over anyway. And the Scotts need to understand that suing a youth baseball league over something of this nature is just a big bowl of wrong. But hey, it's all out of our hands now; at some point this story took on a life of its own. Let the fun continue. UPDATE:
Video of Jericho pitching
.
Press Conference Does Little For League, Jericho
[New Haven Register]
Kid Sues Over Swing & A Dis
[New York Daily News]