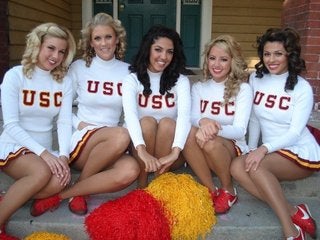 "JP is the founder of Pyle of List, where he toils alongside 3 men that are superior writers, passionate sports lovers and respected friends. He's a USC alum, college football enthusiast and Pac-10 apologist. He also contributes to National Lampoon's Zaz Report but isn't responsible for any of their movies. JP is honored to receive your scorn in the comments."
Orson Swindle is a tough act to follow, even when I'm not following him directly. He's like the "Hot Fuzz" of college football. He somehow manages to lovingly celebrate whilst cleverly ridiculing the SEC football culture. I'm still struggling not to use "we" when talking about USC. Kudos to you, Orson. With that out of the way, here's your USC Trojans 2008 Season Preview:
Strengths
Reputation
: If USC were any other school, this team would be ranked in the high 'teens (unless they played in the SEC where they'd be national title favorites). But in college football, unlike any other sport this side of gymnastics, your rep will play a factor in your rankings. This isn't going to win games for the men of Troy, but will position them favorably in the polls. Also, the Trojans are very attractive to the BCS because of their high profile and command of a gigantic media market, which gives them an edge for any at-large bids. Sorry haters, fair or not…them's the facts.
Nobel Prize Winner, George Olah
: In 1994, Olah won the Nobel Prize for revolutionizing organic chemistry. 8 years later, Pete Carroll is producing unseemly amounts of talent and has the energy of a toddler with a PCP drip while only sleeping 47 minutes a night. Coincidence? I think not.
Rey Maualuga and his band of Merry Linebackers
: Despite his legendary reputation, I was very critical of ol' Rey through last season (albeit on a far less public forum, my blog) because his enthusiasm for manslaughter on the football field often left him out of position. He'd make spectacular plays, but simple ones would elude him. But, he finally seemed to find the proper balance at the end of last season. Which is bad news for every offense in the country… even his own, considering he's hurt a few of his teammates in practice. When he's joined by Brian Cushing, who was a dead ringer for Tim Riggins when he had long hair, and Kaluka Maiava (broke his thumb forcing a fumble by jamming it into the ball in the Rose Bowl) they form a very menacing trio.
Pete Carroll
: You cannot list strengths for this football team without mention Pete himself. He is everything good about USC football. As an alum and hardcore fan, I will openly weep the day (God forbid) he ever decides to leave the Trojans.
Weaknesses
Special Teams
: Despite a ridiculous stockpile of talent (including Ess-Ee-Cee approved speed), the coverage teams are susceptible to big returns and our kicker is a former linebacker. The reason? Unlike virtually every civilized program in the country, the Trojans do not have a special teams coach. Apparently they decided to use the coaching position for an Assistant Facebook Coach, which to be fair is more relevant in recruiting. Since special teams plays can swing momentum and decide close games, this could catch up to USC this year in one such contest.
Offensive line
: After replacing four starters, the Trojans' experience on the O- line has been well documented. But all I needed to know was expressed by a note from the first scrimmage provided by Scott Wolf: "lineman went the wrong way on two of the first three plays of the scrimmage." Missing an assignment is one thing, but going in the wrong direction is quite another. Especially at the start of an intra-squad scrimmage, where the plays were probably scripted. These are the kind of mental mistakes that lead to the second string QB frantically putting on his helmet and sprinting into the huddle, while they bust out smelling salts for your starter who's on a mental journey previously only believed to be possible with heavy doses of peyote.
Depth
: General wisdom would trumpet depth as a great strength. Even for USC, this would be true for all non skill positions. But the glut of talented WR's, RB's and even QB's has complicated this whole "offensive juggernaut" thing, which has been stuck in 4th gear since 2005 when Bush-Leinart-White departed. The Trojans don't have a "go-to guy" within the dearth of playmakers. In their pursuit of the next chosen one, the coaching staff has shuffled so many players around that nobody has established a rhythm and gotten comfortable. I have a scientifically unfounded belief that this also contributes to a higher rate of injury, since guys are literally competing for the starting job each week in practice.
Rivals
After decades of college football excellence, the Trojans have managed to pile up more rivals across this great nation than the Warriors had in the boroughs of New York City. Hence the following Michael Corleone-esque, Godfather christening scene caliber hit list:
UCLA
- When other Pac-10 schools mock your apathy, you're nothing short of a laughingstock. Seriously, the rivalry isn't fun when you have the school spirit of a 14 year old emo kid that cuts himself. Don't worry, the morons in the dancing bear costumes will hold up a sign when it's time for another lifeless "A-Clap".
Notre Dame
- This is all you need to know about the Charlie Weis era at Notre Dame: even Pete Carroll thinks he's an asshole.
Big 10
- What do Pac-10 schools call a mobile QB from the Big 10? A Defensive End.
Texas
- Mack Brown's coaching ability is directly correlated with the presence of Vince Young, or in this case lack thereof. And he sure as hell ain't walkin' through that door anytime soon. Enjoy the Colt McCoy era. The success of your team will be determined by a guy that sounds like a rejected cousin from the holdout-era "Dukes of Hazzard."
SEC
- Only a rival because they've eluded 'SC in BCS bowls. Now that they've added a game to the schedule, I'm glad to see you're finally playing quality opponents out of conference without having to compromise your relationship with Louisiana Monroe or the Citadel. At least this didn't require something as drastic as Sam "Bam" Cunningham running roughshod over Bear's Tide to bludgeon them into integration… in 1971.