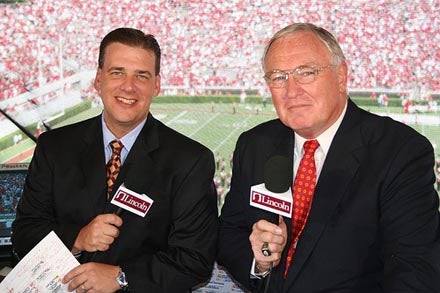 There's a movement afoot, led by esteemed Southern football writer Tony Barnhart, to save the three Daves from the college football scrap heap in the wake of the new ESPN deal with the SEC. This is the rough equivalent of calling for the Berlin Wall to be rebuilt on the morning after it was torn down. How bad are the three Daves? Picture the A-10 basketball television network games, then cut the quality in half. Come on, someone else out there is also an A-10 basketball fan, right? (Crickets.) Okay, they're so bad Emmitt Smith chuckles at the ineptitude while he watches. Put another way, my good buddy Kige Ramsey (who got Palm Beach'd in the Hall of Fame voting by the way) suggested that he and I should replace the Daves and that I could be the color man for our telecast to his play-by-play. Now Tony Barnhart, who always strikes me as the first person to sell life insurance in small southern towns in 1948, is waving the Three Dave flag in the Atlanta-Journal Constitution .
5. Keep the three Daves: I feel badly for my friends at Raycom, who are really the only losers in this deal. Raycom, which carries the 12:30 p.m. game, got squeezed out when ESPN decided it wanted to own all of the television rights not belonging to CBS. Raycom will still do the early SEC games this season, which is the last in the current deal. Next season ESPN Regional Television (ERT) will handle the syndicated package of games. This is just one man's opinion, but if ESPN is smart, they'll keep the same broadcast team of Dave Neal, Dave Archer, and Dave Baker to do the early SEC games. In fact, the SEC should insist on it. Continuity is important, especially in the over the air package of games, which has played an important role in the growth of the conference on TV. It's just something to think about.
Initially I hesitated to write about the Save the Daves campaign because merely acknowledging that anyone is truly sad to see them go, makes me cringe. But then I started thinking this was a similar strategy to John Kerry getting Swift Boated. Silence in the face of attack serves the enemy. So, you see, I had to act. This became even more true when Percy Harvin's lawn boy, Spencer Hall, went and ate the wrong mushrooms (chased down, no doubt with Golden Flake and Dr. Pepper) and
endorsed
this decision. Let me be clear about this: Bury the Daves. Club them with steel-reinforced end zone pile-ons; feed them to moray eels; make them call the games this season with cobras and black widows inside the press box. Whatever you do, do not let them see the light of day. Then call me and Kige.
CBS, ESPN deals will be huge in recruiting for the SEC
[Atlanta-Journal Constitution]
Save the Daves
[EDSBS.com]