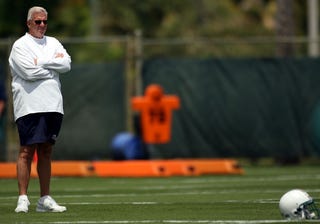 We're less than two weeks away from the start of the NFL season, so it's time to start the impassioned season previews from various writers, bloggers, diehard fans, cooks, TV personalities, and numerous other walks of life whom consider football the only sport worth watching.
Today: The Miami Dolphins. Chris Joseph writes about South Florida sports for the
Miami New Times
and is editor of
FinsNation
, a Miami Dolphins blog.It used to be that the Miami Dolphins were hailed as one of the proudest franchises in the NFL with a long rich history of greatness (in case you didn't know, the Miami Dolphins are the only team to win all their games and the Super Bowl in a single season. True story). Yet for the last decade or so, the Dolphins have played football like old people fuck, and the only way to watch any of their games was to do so with an opium suppository shoved up your ass. But now there's suddenly reason to believe that Miami's never-ending adventures in the land of utter sucktitude will soon be a thing of the past. And, as is our custom every year, Dolphins fans are getting jacked up and excited to the point that we're just setting ourselves up for another colossal letdown of epic proportions. That's just how we roll. Dolphins fans have been waiting since last December to get the taste of an appalling one-win 2007 season out of our mouths. And now that Bill Parcells is in charge of things, the cockpunching has commenced. And it's been quite awesome. Parcells comes into town with his love of racehorses, tits to rival Rich Garces, and a rep for turning crappy teams into great ones. The Tuna has already gutted the roster of some its more popular talents, like Zach Thomas and Jason Taylor. Bill Parcells cares not for our sentimental hang-ups. He's filling the roster with his kind of players – big, strong and fast. It's simply not a Bill Parcells team unless there's a good possibility his players can dislodge their opponents' brain stems from their respective spinal chords. Bill Parcells is The Cockpuncher. We're also quite excited about the return of Ricky Williams, which is a far cry from just three and a half seasons ago when we all wanted to collectively shit in his mouth. Football fans a fickle lot. We were all very excited last season when Ricky was reinstated into the NFL and came back from his Great White North exile. He was all set to make his triumphant return on Monday Night Football against the Pittsburgh Steelers. But in keeping with the Dolphins' 2007 team motto, We Have Shit For Luck And It Shows!, exactly one minute into the game, some asshole dickbrained douchebag Steeler stepped on his shoulder and ended his season. I mean, c'mon. Of all the fucking things. This only happens to us. But this off-season, Ricky has looked healthy and focused. While Ronnie Brown has been nursing a sundry of negligible injuries on the sidelines during the preseason, Williams has been busy running over and through linebackers while getting fantasy football dorks all horny in the process. Ricky should have himself a good season running behind a new and improved offensive line. And that can only mean that opposing defenses are about to get Rickyed every Sunday afternoon. Used to be a time when "getting Rickyed" meant something entirely different for Williams. But those days are behind him now. We hope. But at the end of the day, it still comes down to the quarterback position for the Dolphins. There have been a total of eleven quarterbacks who have started for Miami since Dan Marino retired in 1999. Among them: Daunte Culpepper, who recently turned down the Steelers because he wanted to have a legitimate chance to compete for the starting job (Daunte Culpepper needs to be locked into a portable toilet that's been set on fire already); Ray Lucas, who lost his pinky toe in a street sweeper accident; Trent Green, who sadly died last season; Jay Fiedler, who was last seen playing Dr. Zira in an off-Broadway production of Escape From the Planet of the Apes; Joey Harrington, who is still somehow employed in the NFL; and A.J. Feeley, whom the Dolphins gave up a second-round draft pick to the Eagles to get. He's now with the Eagles. This off-season has been a battle between four new quarterbacks. Because four mediocre quarterbacks is better than one shitty one. There's second-year man, BYU standout and all around terrific Mormon, John Beck. Many Dolphins fans thought Beck would be the hero they'd been waiting for after he was taken in the second round of the 2007 NFL Draft. At first, fans were upset when Miami passed on Brady Quinn. But after watching game film on Beck, these same fans were soon convinced that they could fool others into thinking they were football experts because they knew how to type 'John Beck' into the YouTube search engine, and thus declared Beck a draft-day steal. But Beck has shown nothing but the uncanny ability to fumble the football every single time he touches it while not ever uttering a single curse word in the process. Not a "fuck!" Not a "shit!" Not a "motherfucker!" Not a "cuntsicles!" Not even a "Dang it!" It's really quite fascinating. So in an attempt to offset this, the Dolphins brought in equally shitty QB and equally devout religious person, Josh McCown, to compete for the starting job this off-season. It appeared early in camp that Jesus seemed to owe Joseph Smith a favor and thus smote McCown with a chainsaw, but it turns out McCown is just a fucking moron. The Fins also drafted Chad Henne out of Michigan. Henne's big, immobile and stiff in the pocket. And his throwing mechanics are very, well .... mechanical. Henne also seems to be devoid of any emotion — whether it's in games or during interviews. This evidence suggests that Chad Henne is, in fact, a robot from the 50's. And he could very well be our savior. Or he could have arrived from outer space to warn us of our impending doom. But just as we were about to hinge our hopes on a robot, a Mormon and a moron, the New York Jets traded for some aging hillbilly from Green Bay and released Chad Pennington. Bill Parcells' Pavlovian dog-like reflex whenever one of his former quarterbacks suddenly becomes available kicked up a few notches that afternoon. And Pennington was a Dolphin in no time. So far, Pennington's been pretty good. It could be that he's just the ultimate Dolphin fan's slump-buster quarterback, which means if he can throw a football without completely shitting his pants, we'll take him! Or it could be that he's actually not a bad QB. Either way, he's got the fan base excited and dreaming of that elusive 5 or 6 win season! Josh McCown and John Beck should give their hearts to Chad Pennington. Because he could very well be Jesus. Jesus was fair-haired, had a noodle arm and spoke with an irritating southern twang, right? The 2008 Miami Dolphins will be all about Bill Parcells, Ricky Williams and hoping Chad Pennington can complete an entire 16-game season without hurting himself. Meh, we're probably fucked anyway. What say we go and get Rickyed?