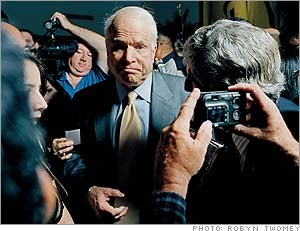 According to the WWL, they're still trying to figure out a date to lock something down with the "presumptive" (fun word) Republican party nominee. But it's going to happen. It has to.
For equal time
. Remember? That was part of the reason Bill Simmons couldn't interview Obama on his podcast and what got him so
blustery
(and
blogspotty
) earlier this summer. Speaking of which...how did Simmons feel about Stu Scott getting the go-ahead to interview B-Ballin' Barry O in North Carolina? Unfortunately, he respectively and wisely chose not to comment this time around. 10 weeks spent podcasting and writing about basketball has softened his rebel heart, it seems. So...McCain. Who'll get that assignment? I bet they turn it over to Jeremy Schaap so he can show off his deathly serious TV newsman chops:
ask a probing question, now nod, engage some more, challenge, nod again and...look quizzical!
Or Simmons will get him. McCain loves podcasts. And maybe Sports Guy can ask him questions about, oh, I don't know Lute Olsen's messy divorce or melanoma or something. Somebody make
that
happen. ******* Tonight:
Who are we kidding?
Anyway, I promise if the Phillies win I'll only do seven posts about it tomorrow. You have my word. If the Mets win...you get nothing! Tomorrow: Previews, Drew and all sorts of other floating sports detritus scooped up and made pretty for your viewing pleasure. Now, go getcher selves a Schmitter. Thank you for your continued support of Kyle "Breadfan" and
Eddie Curry
.