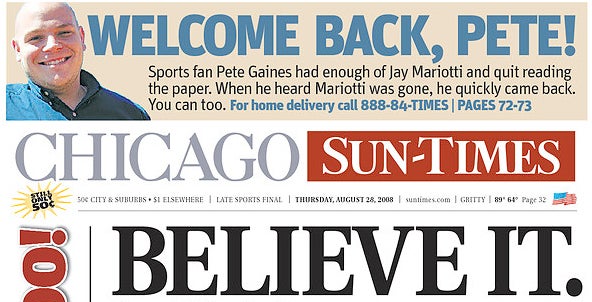 Yesterday, as the whole Jay Mariotti saga unfurled, longtime commenter Pete "Jayhawk" Gaines (and current combudsman at vroom-vroom central, Jalopnik ) amusingly passed along an email exchange he'd had with Sun-Times EIC Michael Cooke: Sir: I wish to inform you that due to recent developments on the Jay Mariotti front, I will now read your newspaper. In fact, I picked one up on the way to work this morning. Not a half-bad rag, I must say. Bully on you. Regards, Pete Gaines Cooke's response?: Every cloud has silver lining .. and this one is golden. THANK YOU ! The result? As seen above, a front page banner of a beaming PeteJayhawk on the top of today's Sun-Times. Hilarious.Of course, Pete wasn't the only reader elated by this news and the Sun-Times decided it was best to share the (mostly) positive reactions toward Mariotti's resignation from its readership . Cooke's letter to the rest of the Sun-Times staff announcing the Mariotti news was equally giddy. Even though other staff cuts are imminent, the news of Mariotti's departure was treated like the overthrowing of a tyrannical dictator:
We wish Jay well and will miss him — not personally, of course — but in the sense of noticing he is no longer here, at least for a few days. A paper, like a sports franchise, is something that moves into the future. Stars come and stars go, but the Sun-Times sports section was, is and will continue to be the best in the city.
One question: If Michael Cooke despised Mariotti so much, why didn't he just fire him a long time ago instead of agreeing to that three-year extension in June?
HE GONE: Readers react to Mariotti
[Chicago Sun-Times]
Life Without Jay Mariott
i [Chicago Reader]