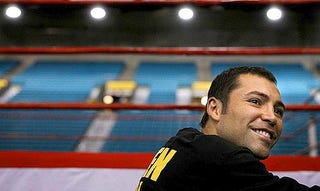 After weeks of speculation and negotiation
the match has finally been made
between the consensus pound-for-pound champion Manny Pacquiao and boxing's Golden Boy, Oscar De La Hoya. While this certainly qualifies as a "mega-fight" it is not to be confused with the
Fight of the Year
or the
Mayweather-De La Hoya spectacle
that outsiders felt could "
save
" the sport. No, what we have here is nothing more than exhibition in money-making akin to a major college bowl game. The fight, scheduled for December 6th in Las Vegas, marks De La Hoya's last shot to cash-out before retiring to the life of an executive and Pacquiao's best shot at becoming a household name in the lucrative American marketplace, but at what cost? Not only is Pacman coming up two weight classes (from a weight class he's been in for all of one fight), but Oscar is coming down a class to meet at the 147 pound weight. What this all means is that the fight is nothing more than an elaborate show, with the consumer, and ultimately the sport paying the price for this farce. And yes, a farce is exactly what this fight is expected to be. Pacman may be the most exciting fighter in the world, but by against a man as big and durable as Oscar all of his vaunted speed and aggression will likely go for naught. If you don't believe that to be the case just take a quick look at the fight's early betting lines. All you need to know is that the man who is widely considered to be the best boxer on the planet (who isn't
prematurely retired
) is a massive 3-to-1 underdog to a guy whose best days are only visible in his rear-view mirror. There are about a dozen other fights I'd rather watch over the course of the next few months than this one, but of course I'll still be one of the schmucks forking over my $50. Because in the end, it's still a chance to watch Manny Pacquiao strive to achieve the impossible. Just try to temper your expectations in the meantime.
De La Hoya-Pacquiao Fight
[LA Times]