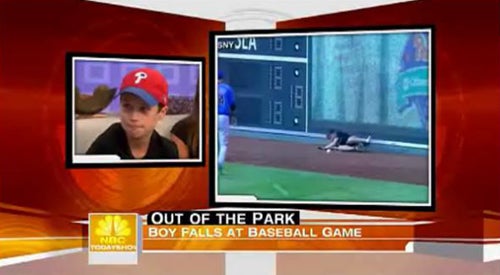 It pays to be a klutz in Philadelphia: The kid who tumbled from the stands onto the warning track at Citizens Bank Ballpark on Thursday woke up the next day to new-found celebrity, collecting a bunch of Phillies memorabilia, game tickets and a trip to New York for an interview on the Today Show. The latter included some hard-hitting journalism indeed. Sample Matt Lauer question: "Did you see stars?" The kid, Kenny Campbell, 10, recalled his fall during batting practice at the Phillies-Mets game, but would not look at the video replay of the event.
"It's kind of scary," Campbell told TODAY co-hosts Matt Lauer and Meredith Vieira on Friday. "But I remember catching the ball and falling over the fence and thinking, I don't want to land on my head, so I tried to do some sort of flip."
As you see in the first video, Mets' pitcher Mike Pelfry is the first to get to Campbell, and being that he's a Met, of course dropped him. Actually the Mets were quite supportive, as was the Phillies front office, which gave the kid a bat and a ball, both signed by Ryan Howard, and a pair of tickets "to a future game." Hello Phillies-Nationals on Sept. 26th! Also during the interview, Campbell revealed that he's actually a Yankees fan.
Click to view
Click to view
Meanwhile, another Phillies' fan
got a far different going-away present
.
Baseball Fan Takes Plunge, But Comes Up With Ball
[MSNBC]
Guilty Of Beating At Phillies Game, National Guardsman Opts For Tour In Iraq
[Philadelphia Inquirer]