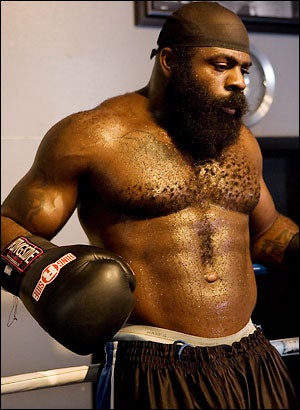 It's common sense that any sports league needs the cash and exposure that come from being on television, and while the big sports have tidy, lucrative TV deals in place, there's one league that's still sorting out its path to the living rooms of America. No, NHL, we're not talking about you. UFC, the flagship of mixed martial arts, had watched CBS start its own MMA circuit, EliteXC, after talks with that network for a TV deal had fallen through. But now after two disappointing broadcasts, it seems CBS may be ready to ditch EliteXC and give UFC its long-awaited shot at network prime time.
The original plan [for EliteXC] was to have a primetime fight every other month. But reportedly, the network was shocked by how badly the last fight, called "Unfinished Business," did in the ratings. Despite a poor showing, CBS apparently does not want to give up on the idea of turning the sometime savage mixed martial arts into primetime fare. Rumors have also resurfaced that CBS is once again in talks with UFC - the first and better-known of the competing fight leagues - to take over the timeslot.
EliteXC would almost certainly die without CBS, and UFC would add another vehicle to their already-impressive suite of programming, including their regular Pay-per-View events and their
Ultimate Fighter
reality show on cable's Spike TV. They have the buzz, they have the demographic. All they need are a few more athlete arrests and they can take their rightful place in the mainstream sports landscape.
CBS May Dump EliteXC For UFC
[FanNation]
UFC Could Take Over Elite XC Spot On CBS
[MMA News.com]
Friday Night Fright
[NY Post]