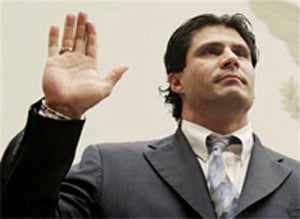 Former big league slugger and chronic attention whore Jose Canseco will be appearing on the FOX reality show/game show/exhibit of the degradation of society, "The Moment Of Truth." Canseco, the pariah whose autobiography catalyzed the Mitchell Report, congressional hearings and a new PED policing effort in baseball, will appear in an episode to air either in late September or early October, according to a report from David Vassegh on am570radio.com . I guess it's too late in the programming schedule to bring back The Swan Jose could really benefit from some weekly therapy and life coaching.
As I reported first on the PMS Show on Thursday afternoon, I have learned that former MLB Slugger, Jose Canseco will be in the hot seat on Fox's Reality Show, "Moment of Truth" Canseco already has taped the episode and according to my source that was in attendance. [D]uring the taping Canseco was asked if he ever injected Mark McGwire with steroids and if he ever corked his bat amoung other questions that were asked during the taping. ...The way the reality show works is the contestant in the chair takes a polygraph test prior to going on stage and is asked the same questions. If the anwsers the contestant gives on stage matches the polygraph then, they continue to advance and get more money.
We
discussed this show on KSK
a while back and came up with this question: if you were a contestant, why would you ever lie? The questions are all yes/no, so even if you lie, not only do you lose out on the money, but then your family knows the truth anyway. People are so stupid, but then if you ever managed
to get on
that show, that level of game theory is probably over your head anyway.
David Vassegh's Blog: Canseco's Moment Of Truth
[am570radio]
via
[Ben Maller]