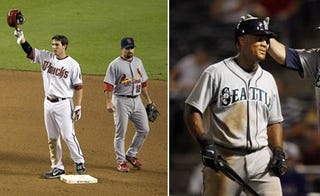 I guess Stephen Drew isn't a big name,
except for writers of slash fiction
. All he did on Monday was hit for the cycle, and
AP called him Scott Drew
(11th graph). Later Monday, Adrian Beltre also hit for the cycle. What are odds of two players hitting for the cycle on the same day? About the same as Warren G. Harding being elected President. And the last time either of those things happened was in 1920. It was Sept. 17, 1920, to be exact, when Bobby Veach of the Detroit Tigers and George Burns of the New York Giants did it, according to the Elias Sports Bureau. I'll give you a minute to dig out both of those baseball cards from your collection before I continue. Beltre homered in the second, had a run-scoring single in the fourth, doubled in the seventh and tripled in the eighth. He also had another single, missing a six-hit game when he grounded out in the ninth. Seattle beat Texas 12-6. Drew singled in the first, tripled in the third, homered in the fifth and had a ground rule double in the seventh. He also finished with five hits. It was the first-ever cycle at Chase Field. And, of course, only Drew's really meant anything. Arizona beat St. Louis 8-6, keeping the Diamondbacks 2 1/2 games ahead of the Dodgers in the NL West. LA beat San Diego 5-2 on Monday. Seattle, meanwhile, is 29 1/2 games behind the Angels in the AL West; not quite mathematically eliminated, but close.