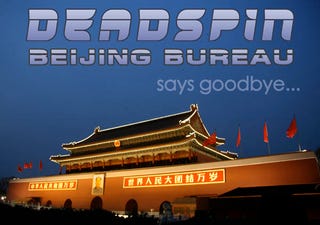 The Olympics have ended, yet our three young lads who dutifully covered them for Deadspin for the past month are still there. They've requested a farewell post. Here it is.
Things are pretty quiet here at the Bureau now that the Olympics have (mercifully) ended. Media organizations around the world have been closing their foreign bureaus and Deadspin is not immune to the epidemic; this will be our final post. We'll be giving up the glamorous blogging life and returning to our
janitorial
day jobs.A rained-out baseball game against the Netherlands notwithstanding, we didn't get to see many Olympics events in Beijing… but that was never really our intention. Lingering around outside media hotels under the watchful eyes of soldiers from the People's Liberation Army was probably more fun — we heard the Olympic Green was boring anyway. The palpable national mood - a weird combination of proud excitement and totalitarian nervousness and micromanaging – and the general strange happenings around here sort of drove our coverage. It was often rather heavy stuff – those Tibetan monk riots, the nationalism and the tumultuous torch relay that followed, racism, re-education camps for the elderly, etc… The run-up to the Games and the frantic 16 days in which they occurred was a weird time here. Most Beijingers we met were extremely proud of their hometown, from the smiley volunteers to the elderly neighborhood watch patrols — one of the London Organizing Committee's biggest drawbacks is that they won't have a pool of thousands of eager volunteers (or potential
hostesses
, for that matter) from which to draw free labor. To some, the Olympics presented an opportunity to shed light on their causes, from the duped protest applicants to the permanent petitioners and political dissidents under house arrest in Beijing. To the people who organized this thing, BOCOG & the Chinese government, we bet they're glad the thing is over, and that it passed without major incident. For the most part, we encountered little ambivalence about the Games. These Olympics felt a bit like a climax here, having been reminded of the huge event for so long by advertisements and banners and security lockdowns. But the end of the Games doesn't mean China as a news item is going away anytime soon; the microscope is going to stay. That's for the better, we think. Life will keep rapidly changing in China and weird, fascinating things will continue to happen. The rest of the world will go on scrutinizing the government... and the government will probably change, gradually. We're interested to see the coming response to the permanent attention. We want to thank Will & AJ for letting us write, and especially you all for reading our ramblings – we had fun writing them. We'll be sticking around for a while, so if you're in town, look us up (deadspin.china@gmail.com). Take it easy, Spinheads; 慢 走.