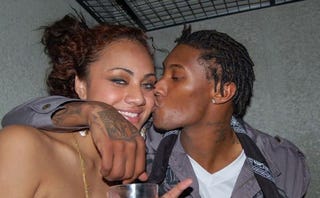 We're less than 24 hours away from the start of the NFL season, so it's time to finish the impassioned season previews from various writers, bloggers, diehard fans, cooks, TV personalities, and numerous other walks of life whom consider football the only sport worth watching. Clearly, these previews will be running until, oh, the first round of the wild card playoffs based on how quickly they've been coming in. So, for the next few days, expect a lot of these. And, these worthy teams are still in search of an author: • The Indianapolis Colts • The San Diego Chargers • The Seattle Seahawks • The Chicago Bears • The Jacksonville Jaguars (Shanoff!) • The New England Patriots (For real?) • The Tampa Bay Buccaneers • The Baltimore Ravens • The St. Louis Rams So, let's see if we can get all of these done by, oh, Sunday at 12 p.m. It'll be fun. Go. Today: The Cincinnati Bengals. Your authors are is the Who Dey Revolution.
Who Dey Revolution
is run by lifelong Bengals fans who want their team to stop losing by demanding that ownership is committed to winning at all costs.In the 17 seasons since Paul Brown died and his son Mikey has run the team, the Bengals have won zero playoff games and only made it to the postseason once. In the last 17 years, the Bengals have posted a .356 winning percentage (97-175), making the team the losing-ist team over that stretch in all 4 major sports. Take that Clippers! The organization's management decisions are a case study in how to ruin a team's chances of success – all in a league designed to encourage parity. You have to work at it to be this bad. The recent offseason added more classic bonehead examples of mismanagement that we in Cincinnati have come to understand are inevitable. Mike Brown is simply a colossal failure. To copy a bit from an old graduation speech given by Johnny Carson where he gave tips on how to guarantee failure instead of success, here are Mike Brown's Guidelines for Destroying an NFL Franchise.– 2008 Offsesaon edition.
Fail to Address Glaring Needs Via Free Agency Despite Having Cap Space
Free agents can step in and help right away, so when you have holes you desperately need to fill, by all means do not sign anyone in free agency to help. Draft picks can take years to develop and are riskier since they have no proven track record, so use them instead.
Failing to close
is great (DT Dewayne Roberson) but failing and then seeing them
sign with a division rival
(Cleveland) is even better (DT Shaun Rogers).
Throw Big Money at Mediocre Players
Okay, you just failed to address an obvious need in free agency, the next step is to give lucrative extensions to the very people you were trying to replace. DT Domata Peko- you have 4 sacks in two years, have a
$30 million extension
! Back up Jonathan Fanene, you have 1 sack in 3 years, take a 3 year extension worth millions! An important corollary: Make sure to keep cap killing deadweight players on the roster. DT John Thornton counts for $5 million against the cap this year despite anchoring one of the worst defenses of the past 5 years. Keep that "veteran presence" on your roster even though you could use that space better in all sorts of ways.
Ignore Contract Negotiations with Indispensable Players
In order to fail, it is important to get your priorities wrong if not completely backwards. Start by ignoring players who have outperformed their current contracts and are looking to reasonably negotiate new terms going forward.
T.J. Houshmandzadeh
is tough, consistent, clutch, a fan favorite, a pro bowler and a safety outlet for Carson. Ignore his requests at all costs. See how keeping Thornton's cap space helps here? Now you can't pay T.J. even if you wanted to.
Franchise Tag the Strategically Worst Player Possible
The key here is to make a decision so baffling people might wonder whether or not you are aware you don't have to use the Franchise Tag at all.
2007 was a success
. You paid slightly above average DE Justin Smith $8 million just to see him leave the following season. Plus, spending that money prevented you from resigning Pro Bowl G Eric Steinbach , resulting in his loss to division rival Cleveland. Breathtaking. How can you improve on that? Franchise a guy who has never been on top of the depth chart and has
no intention of being here next year
! Seriously? RT Stacey Andrews is your man. Get that man a Tag!
Telegraph Your Draft Strategy
Two simple steps: First, make your needs publicly known (in this case going for high profile DT free agents and failing). Second, openly declare you will make no moves in the draft. This allows teams with similar needs, in the case the Saints, to trade
not once, but twice
, directly in front of you to take the best DTs on the board.
Have a Poor Draft Strategy
This goes without saying. No single thing can make a franchise as consistently successful as drafting well. The offense is (was?) good, the defense is terrible. Better draft three WRs! Chad and TJ, despite some turmoil, are the starters. Plus you acquired TE Ben Utecht as the first passing catching option at that position since the Carson Palmer era began. But draft more WRs!
Take at least one of them a round or two early
(Jerome Simpson).
Stockpile Fringe Character Players
There are so many benefits to this I don't even know where to begin. First, remember the following relationship: Fringe Character Players = Cheap Talent. Nevermind that every other franchise passed on the guy, you have a special insight. When the strategy inevitably backfires, and there are ten arrests in ten months DO NOT GIVE UP. DE Jason Shirley
allegedly drove drunk through a building
, but man can he move for his size! Bring him on board. Wait, we didn't draft enough unnecessary WRs,
pick up delinquent Maurice Purify
! But the benefits don't stop with the arrests. First, you are a perennial loser, which generally results in a baseline amount of sympathy for your fans in the sports world at large. Well, not anymore. Now your franchise is not only a loser but a villain. Besides, who cares if these guys act up on the field? You don't have to deal with them on a day to day basis. That is the job of your coaches.
Make One Unconscionable Move Drawing National Scorn
The opportunity does not arrive every year, so you have to seize it when it comes. In this case, it was obvious: resign Chris Henry. In one fell swoop, it has destroyed any remaining sympathy and credibility, it has made Marvin Lewis simultaneously appear unscrupulous and impotent, and it has made the fans outraged and despondent. Note: make sure to take the moral high ground and
claim that you are a "redeemer" in a press conference
so that you seem like Father Flanigan. Nevermind that you are running a professional organization with the goal to win, not to rehab, and that you are doing so at the expense of your
fans and taxpayers
. No. Nevermind. You're a good man, Mike Brown.
Cincinnati Bengals 2008 Season:
3-13. The Lost Decade Returns.