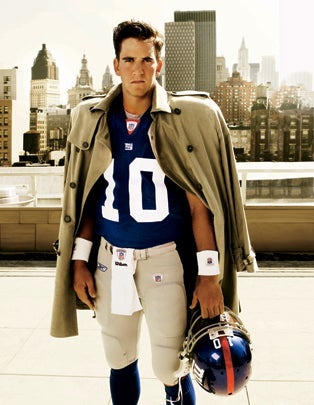 We're less than 12 hours away from the start of the NFL season, so it's time to finish the impassioned season previews from various writers, bloggers, diehard fans, cooks, TV personalities, and numerous other walks of life whom consider football the only sport worth watching. Clearly, these previews will be running until, oh, the first round of the wild card playoffs based on how quickly they've been coming in. So, for the next few days, expect a lot of these. Today: The New York Giants. Your author is Peter Schrager.
Peter Schrager is an NFL columnist for
Fox Sports.com
and gets weepy about both the Giants and
Chris Russo
.Before sitting down to write this, I watched the Giants Super Bowl DVD in its entirety. It's probably the 50th time I've done that in the past month. Lame way to spend a summer? Perhaps. But it's my personal Rocky IV training montage. Instead of going to the gym or trying to talk to females at a local watering hole, I'll watch the Giants DVD alone in my apartment, jump around in triumph, and call it a night. I've yet to find an evening where I've regretted that decision. Who needs civilization and things like sex and companionship when you have Michael Strahan pacing up and down the sidelines, assuring his defensive teammates in the final minutes of Super Bowl XLII, "We're going to win this game 17-14." Fuck. I get chills just thinking about it. It's the final scene in "Rudy", "Gladiator", and "Dirty Dancing" all in one. For a Giants fan, it's pure nirvana. That DVD's the gift that keeps giving. Sam Madison wandering around London like a maniac, Kawika stuffing Ladell Betts on 4th and goal in Washington during Week 3, Corey Webster's game-sealing interceptions in Buffalo and Green Bay—you can't watch it without feeling like you do at the end of the "One Shining Moment" montage each April. Good feelings all over. It's an Iced Tea on the hottest summer day. It's a good jukebox in a great college bar. It's that new car smell. In truth, the past six months have pretty much been pure bliss for Giants nation. If this is what a honeymoon is like, I want to get married 100 times. The golden glow of January and February's improbable run towards the Lombardi Trophy still hasn't worn off. Slap us with $10,000 to $20,000 PSL seat licenses? Shucks, it's okay. Lose Super Bowl heroes Kawika Mitchell and Gibril Wilson via free agency? Golly gee, we'll just have to get through it, right? See Strahan retire and Shockey get traded in a matter of days? Hey, these kind of things happen! Lose Osi to a devastating season-ending injury in the damn preseason? Gulp. It's okay—everything happens for a reason! Such optimism is certainly not the norm for Giants fans. With Dave Brown, Danny Kanell, and Kent Graham serving as the Giants starting quarterbacks during my high school years, positivity towards this franchise is pretty much a foreign entity to me. I was raised on simultaneously rooting and being disgusted in this football team. The same goes for my father's era of Giants fans. And his father's too. Sounds fun, right? Check out a Giants game sometime. You'll be hard-pressed finding a section not littered with bitter 20-year-old, 50-year-old, and 80-year-old fans. I was in Giants Stadium when an unknown Jersey kid named Ricky Proehl caught three touchdown passes in a horrid loss to the lowly Cardinals in the early 90's. I was there for the onside kick Wildcard loss to Cunningham and the Vikings in '97. I sat with shame in a fraternity house full of brand new Ravens fans (betting on Baltimore and the -7 line, of course) as Trent Dilfer wiped the floor with John Fox's defense. I can tell you all about the window my fist went through after Trey Junkin muffed the snap in San Francisco in 2002 or the long walk around the block I took after a porous Giants defense made Nick Goings look like Barry Sanders in an '05 Wildcard loss to Carolina. Vai Sikahema's kick returns, Emmitt Smith's one armed heroics, getting blown out 50-21 in East Rutherford by Stephen Davis and the 'Skins in '99. These wounds all are there somewhere on the sleeve of my Dave Meggett jersey, just as Pisarcik's fumble and the dark 60's and 70's are embedded within my father's generation of Giants fans. Though there's been two—and now three—Super Bowl victories, it's the low moments and the endless string of disappointments that really bring Giants nation together. Of course, all those painful moments are exactly what made Tyree's catch, Tuck's dominance of that overrated Patriots offensive line, and each and every viewing of the Super Bowl DVD all the more sweeter. This summer, Eli Manning—a guy who I am pretty sure wears pajamas with the footsies on them to bed each night—got married to a gorgeous Southern Belle, was treated like an A-lister at the ESPY's in Hollywood, and featured in
Men's Vogue
. Yes, Eli Manning was in
Men's Vogue
. Seriously. Of course, I didn't flinch at any of this. It's the Honeymoon period. Anything's possible and none of it can upset or faze me. That is, of course, until we come out looking like shit in the first quarter of tonight's game versus the Redskins. That's when the Honeymoon comes to an end. That's when it's okay to sour on the Giants again. And I'll be honest—I can't wait.