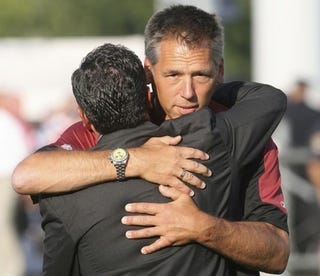 We're less than 12 hours away from the start of the NFL season, so it's time to finish the impassioned season previews from various writers, bloggers, diehard fans, cooks, TV personalities, and numerous other walks of life whom consider football the only sport worth watching. Clearly, these previews will be running until, oh, the first round of the wild card playoffs based on how quickly they've been coming in. So, for the next few days, expect a lot of these. Today: The Washington Redskins. Your author is Jack KOGOD, America's Unsilent Majority.
Jack KOGOD is weekend army editor at Deadspin and one of the proprietors of
KSK
. His Santonio Holmes-sized typing ability is after the jump.
Overview
You might think that Washington DC is all atwitter with excitement over the conventions and upcoming election, but all anybody around here actually cares about is another season of Redskins football. Seriously, Bristol Palin could give birth to Barak Obama's baby at L'Enfant Plaza and all anybody would want to talk about is Colt Brennan's viability as a gunslinging NFL quarterback. It really is a special place.
Offense
Fairly or not, all the pressure in the city rests on the shoulders of one Jason Campbell. The easygoing southerner has shown some flashes, but many of his few "defining" moments have been drive killing interceptions in the fourth quarter. The backfield is set with the duo of Clinton Portis and Ladell Betts running behind the ginormous Mike Sellers and a slightly
re-worked offensive line
. Vinny "The One-Man Brain Trust" Cerrato attempted to bolster the passing game by adding Malcolm Kelly and Devin Thomas through the draft. So far we've learned that Kelly is incapable of setting foot on grass and Thomas has absolutely no clue what the fuck is going on. But hey,
Chris Cooley and Jason Campbell drafted each other in fantasy football
, so that's good for something. Right?
Defense
Getting Jason Taylor is nice and all, but he's pretty much the exact opposite of Sean Taylor in every way imaginable. It's nothing against Jason, we just really liked Sean a whole lot. So the Redskins should probably put a motherfucking "J." on that 55 jersey before we start rioting. Oh who am I kidding? I'd have to drive all the way to Raljon to riot, and parking is a nightmare. Taylor and the rest of the line are still question marks, but the linebackers are studs when the unit is healthy. Elsewhere, LaRon Landry should thrive at free safety with Reed Doughty attempting to fill the gap at strong safety, while the remainder of the secondary remains in tact...for now.
Special Teams
Hey, a new punter! Kick ass!
The Cheerleaders
Still awesome
.
The Key Players
Jim Zorn:
The first year
offensive coordinator
head coach has embraced the role of
the cuddly players coach
, except for when he's calling out his veteran offensive line for being soft and letting everybody know that his rookie wide receivers are not just crappy, but lazy and out of shape as well. Local critics like to point out that Zorn has never called a timeout in an NFL game, but he certainly can't be any worse than that
old Hall of Fame guy
.
Vinny Cerrato:
When not flatly refusing to answer any questions fielded by the Washington Post's beat writer Vinny enjoys dining on the sweetbreads of adolescent orphans.
Dan Snyder:
The team's owner either fancies himself a media baron or he's trying to silence all those that shit on him with impressive regularity. Although my money says he's
just a megalomaniac with means and opportunity
a tremendous human being and a shrewd leader. My apologies, it appears as if Nick Denton has sold Deadspin to Red Zebra Broadcasting. I, for one, welcome our new Mark Shapiro and Bruce Gilbert-led overlords.