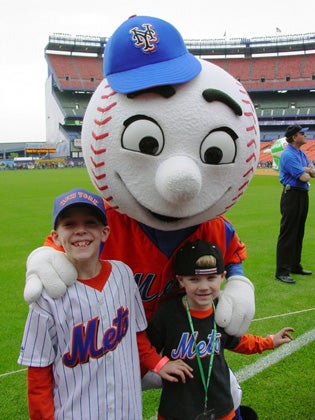 Watch out evildoers, Mr. Met is now savvy to the ways of the Interwebs. He is ready to kick some serious online predator ass. The Mets are having their Internet Safety Day on Saturday, and there are plenty of fun Internet safety activities planned. I'm pretty sure. Actually I have no idea, so let's go to the story.
Advocates trying to warn kids about the threat of online sexual predators trolling the Internet have a new ally — Mr. Met. The mascot has been recruited to get the word out at the first-ever Internet Safety Day at Shea Stadium. The event kicks off before the 3:30 p.m. home game against the Philadelphia Phillies on Saturday. Among the educational goodies that will be handed out to fans are 25,000 mock baseball cards with safety tips like "I pledge to ask a parent before sharing my personal information online" and "I pledge to not meet anyone that I first 'met' online."
I wish I had this information before attending the Deadspin pants party in Alameda. But anyway, I hope this is effective, because it really is a serious subject; even if the chief advocate is wearing baseball pants.
Look, he has kids of his own!
Now if we could only get
the Freddie Sez guy
from the Yankees, we'd have an unbeatable child net safety team.
Mr. Met Pitches Kid Net Safety
[New York Daily News]