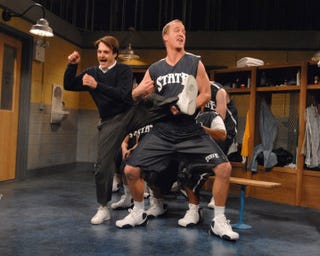 The NFL season has officially started, so it's time to fucking finish the impassioned season previews from various writers, bloggers, diehard fans, cooks, TV personalities, and numerous other walks of life whom consider football the only sport worth watching. Clearly, these previews will be running until, oh, the first round of the wild card playoffs based on how quickly they've been coming in. So, for the next few days, expect a lot of these. Actually, let's see how many we can get out in one day. Today: The Indianapolis Colts. Your author is BigBlueShoe.
BigBlueShoe is not your typical Colts fan, but like all fans he's just a regular guy who knows his team is great and your team is puke. Despite what you may think or hear about him, he gets along very well with many
Patriots fans
. BigBlueShoe blogs for
SB Nation's
Indianapolis Colts blog,
Stampede Blue.
He feels his community of Colts fans at Stampede Blue are the best in the U.S. of A., and he thinks anyone who ever questioned Peyton Manning's greatness (Bill Simmons) is a clueless moron (Bill Simmons) who knows as much about sports as a blind, dimwhitted chimp who whores himself out for crack (Bill Simmons).Your typical Colts fan is not me. He's typically a pretty nice guy. He wears pulled up white socks, tan shorts, and he stares at you with that "golly gee" twinkle in his eye; the Ned Flanders of NFL fans. You see him walk into the sports bar, "okily dokily" making his way to the section showing his beloved Colts. He says "hi-diddly neighbor" to the other fans wearing Patriots, Jets, and Bears jerseys. They promptly tell him to get raped. But, as Jesus (and by extension, Tony Dungy) said, "Turn the other cheek." So, Ned Colts Fan orders his Budweiser, sits alone in his section of the bar, and smiles from ear-to-ear as his team crushes the other teams, like the
Patriots
, Jets, and
Bears
. After the game, Ned Colts Fan pays his bar tab and walks over to the other fans. He extends his hand and says "Hey, your team looked good. I know the score was 52-3, but they played hard and that's what counts." Ned truly means what he says, but the other fans simply insult Ned's mother and toss beer in his face. Ned reigns in his anger, wipes his face with a bar napkin, and asks the bartender to give the other fans a drink on him. "Turn the other cheek." "What would Jesus do?" That's all Ned Colts Fan thinks. The bartender quietly tells Ned that he's cut off those other fans. They've been drinking since 6am yesterday morning, and five hours ago they stopped using the rest room and are content to just piss in their pants. Ned turns and is confronted by Bawby Pats Fan. His hair, face, and eyes are red. His nose, teeth, and spine yellow. He opens his mouth and starts speaking in a language only South Bostonians and Klingons can understand. Ned can't quite make all of it out, but he gets enough to know that Bawby Pats Fan thinks very highly of Ned's wife, and would like to show her his "Big Papi." "Turn the other cheek." "What would Jesus do?" Ned Colts Fan smiles and suggests that Bawby Pats Fan, Louie Jets Fan, and Mikey Bears Fan walk with Ned to the bar next door. The four of them can watch the 4pm game, and Ned will buy everyone dinner… and a new pair of shorts. Bawby Pats Fan responds by vomiting in Ned's face. Bawby walks back to his boys, laughing, urinating himself, and wiping puke from his mouth with his #37 Rodney Harrison jersey. Ned Colts Fan, humiliated and berated just for trying to be nice, stands there smelling like stale beer and clam chowder. It's at this point in the story that I walk into the bar. With the double barreled, NRA-approved shotgun of holy Colts fan righteousness, I blow away Bawby Pats Fan. He explodes like a zit in a fountain of green puss and cheese whiz. I knee cap Mikey Bears Fan, and I let Louie Jets Fan go so he can tell his friends (because seriously, why waste holy righteous ammo on a friggin' Jets fan?).* I then walk over to Ned and calmly remind him that this is football fanhood, and it ain't got nothing to do with Jesus and being "nice." In fact, on Sundays from August to February, Jesus is a very distant second to football. For years, we Colts fans were the butt of all NFL jokes. We were the K.C. Royals of the AFC East, getting the crap kicked out of us by quarterbacks named Grogan, O'Brien, and Zollak. We were the little brothers of the Bears, who were always good even though their coach was a clueless moron who'd taken way too many hits during his playing career. The Patriots would unretire players just to play the Colts, just for the sick pleasure of it. Even the Jets (THE JETS!) would beat Indy in playoff games. Now, things are different. But, for some reason, after we've kicked the hell out of the NFL for six-plus years, fans from other teams still treat us like garbage. We extend a hand in friendship after games rather than taunt, and we get spit on. We offer a free beer. It gets tossed in our faces. We say, "Hope to see you in the playoffs!" We get answered, "Hope to see your momma later tonight?" Not anymore. We own you NFL, and it isn't going to let up anytime soon. Despite what moronic peons at ESPN think, the Colts have one of the youngest teams in football. They have the #1 scoring defense in football returning all of their starters, and most of the key players on that defense are locked up long term and have only played for 4 years. Peyton Manning is only 32. Favre is 39 and still playing at a high level. So, if you think Peyton is going away, enjoy looking stupid. Marvin Harrison, who despite crappy reporting from National Inquirer wannabes like Mike Florio, didn't shoot anyone last May. However, he is going to blow up NFL DBs this season though. I attended Colts camp and watched the preseason. Marvin Harrison now is the same as Marvin Harrison 3 years ago. Guys like Joseph Addai, Reggie Wayne, Dallas Clark, and Anthony Gonzalez are all still young and all still very good. So, if you were hoping and praying the Colts were going to go away this season, just remember that Jesus doesn't listen to you. He listens to Tony Dungy, and his faithful flock of Ned Colts Fans. Enjoy watching the Colts kick the "dang-didly" out of your favorite team in 2008. *
No real fans were shot in the writing of this story. If you or anyone else thinks it is ok to go and shoot opposing fans, you were sick in the head long before reading this, and need to get put someplace where the walls are white and the jackets straight. Go Colts!