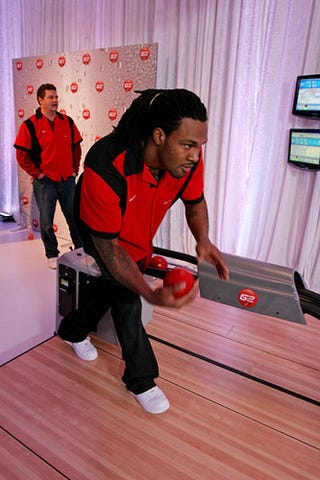 The NFL season has officially started, so it's time to finish the impassioned season previews from various writers, bloggers, diehard fans, cooks, TV personalities, and numerous other walks of life whom consider football the only sport worth watching. Clearly, these previews will be running until, oh, the first round of the wild card playoffs based on how quickly they've been coming in. So, for the next few days, expect a lot of these. Actually, let's see how many we can get out in one day. Today: The St. Louis Rams. Your author is "Slow Jerk".
Slow Jerk from
StreakingTheQuad
, a college sports blog run by four assholes from Missouri. Slow Jerk has been a Rams Fan since Jerome Bettis forgot how to play football for a season to get out of St. Louis.I remember it clear as day. Mike Jones made the tackle that pretty much got me laid that night. The Rams won the Super Bowl (the effing Rams, man!). Being a native of St. Louis, I clung to the Rams right off the bat. We had season tickets, so we would go see our brand new team get absolutely embarrassed by real NFL teams. But we dug it. It was NFL football. I was able to make fun of Carl Pickens in person! It was a novelty at first, and then you just started feeling bad for Isaac Bruce. Fast forward to the fragile Trent Green snapping his leg in a preseason game. I thought I had been shot. He was our chance, man. "Well, I guess we can watch the other teams we play." Enter a religious grocery boy from somewhere in Iowa. The Super Bowl was ours – I couldn't believe it. We had risen to grace at a speed unlike anything the SEC has ever seen. Then comes along that piece of shit Tom Brady. Don't get me wrong, he's a good QB. But I hate him. With every fiber of my being I want him and that kicker that shall not be named to somehow wind up armless and legless. After that, the fall from grace was as staggering as David Caruso's career. Yes – the Rams are the damn David Caruso of this league. Now, I know I'm writing this piece in lofty company (Will Leitch? Some guy who blogs and works for a paper? That Fatsis guy?), and I hope to live up to their similarly lofty expectations. I'm just a simple dude who blogs about college sports but LOVES football. Deadspin readers, humor me as I try to take you on the Willy Wonka Boat Ride that is the St. Louis Rams. I swear this piece will have more atmosphere than a Rams' home game. So what does that mean for this season? After 3 whole wins last year (THREE WINS), there has to be improvement. Sure, Linehan is still sketchy at best as a head coach. There are plenty of question marks. But, we play in a terrible division. Looking at it piece by piece – let me run down the Rams for you:
Coaching
Scott Linehan always looks like he's unsure his role in life. The vibe I get is that he has some life threatening decision to make at every second of the day. His gameday coaching seems uninspired and sometimes unprepared. Sure, we bitched about Mike Martz. But dude had balls, bro. He would look you in the eye, call you a homo, and then pass the ball until he could pass no more. Why do you think he always had guys like Trung Canidate back in the backfield? Because he never used 'em! Now, Linehan has one of the best RB's in the game, and he somehow thinks throwing a short out to Randy McMichael is a better option? I'm all about TE's getting in the mix, but sometimes the gameplan makes as much sense as the Jonas Brothers' popularity (seriously, have you listened to that shit?). Al Saunders is about 399 years old and I wouldn't be surprised if he were aware that no one uses the Run and Shoot anymore. Linehan is vanilla – and until he gets smarter on the frontlines, this team will suffer. Defensively, Haslett came in as a specialist. His defense last year was more special ed, and he has a lot of work to do to utilize the talent this team has.
Offense
The skill players have always been the Rams' calling card. And there seems to be a revolving door of talent – until now. The RB situation is fine with Steven Jackson reporting to camp. I'd like to see more out of him this year than last, but we'll get to why that would happen later. The TE position has always been kind of weird for the Rams. Not like the guy at work who is always chewing on a tack weird, but like Keith Richards falling out of a tree weird. It begs the question Why? The Rams have drafted a TE fairly high on more than one occasion, yet rarely do they throw to him. McMicheal is a solid pass catching TE – I'd like to see him see get more catches. Which this offense will need because the WR core is lighter than Michael Jackson. Torry Holt is still one of the best WR's in the league, and he doesn't have to change his name to let you know that. But after that? Drew Bennett? I think I have more catches and yards than he does. Dante Hall? The X-Factor hasn't really been a factor since his KC days. He can still return the occasional kickoff, but has trouble holding on to that pesky slant. Dane Looker has always been a sleeper guy to make a big impact, but hasn't really been able to harness his speed. Remember Kevin Curtis and Mark Furrey? They were both better than Looker, and they prove to be so on other teams. And the name Dane Looker just plain annoys me. Look out for Rookie Donny Avery. Kid can blaze. The Rams definitely need these guys to step it up, because Holt can't do it on his own. At QB, the Rams have two veterans who are made of porcelain. They both look about as tough as the Olson Twins. Marc Bulger is an outstanding QB, when he's on his feet. Which hasn't been much lately. As much as he's on his back you'd expect to see "Spears" on the back of his jersey. And at backup? The aforementioned concussed wonderboy Trent Green. They have potential to succeed – and it all hinges on what was the worst O-Line in the history of modern sports. Note to Richie – how can you be Incognito when you have those ugly-ass tattoos? Anyway, if the line can stay healthy – it takes pressure off of Bulger and Company – and this team can score points.
Defense
Leonard Little still drunkenly kills opposing players. Throw in Rookie Chris Long on the line with Glover and Carriker, and you have yourself a nice little D-Line. The secondary has been an issue in the past not only due to injury but due to the Rams' propensity to draft short guys with long dreadlocks. This year could be different – Atogwe and Chavous are proven solid players, and Witherspoon and Tinoisamoa are two of the harder hitting LB's in the league. This defense was on the field far too much last year, stemming back to the O-Line fiasco. If they can balance themselves out, again, this division is not that hard.
Other Stuff
I'm not going to bore you with special teams. What I will do is give you a quick version of how this season will play out. The Rams will be on the bubble for the playoffs. How is that possible? Well, have you ever trusted Arizona, San Francisco, or Seattle to live up to expectations? Linehan's job is on the line – and maybe he'll actually wake up and coach a few games. So, back to David Caruso. He's doing OK now, right? I mean, CSI Miami is pretty popular, and despite his giant douchebaggery and overacting, people seem to kind of like him. He's kind of a star again, right? So there it is – the Rams are back to kinda being stars even if their Coach is a giant douchebag.