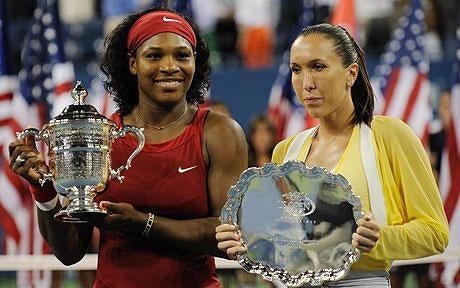 Jelena Jankovic, the split-happy, thunder-serving Serbian may have lost the U.S. Open to Serena Williams yesterday, but she won over some new fans. Williams' third U.S. Open title returned her to the number-one ranking player in the WTA, but that news was overshadowed by the bizarre post-match comments from Jankovic:
The second-ranked Jankovic, who was No. 1 for a week last month, might have lost the match but she won over the Arthur Ashe Stadium crowd during the award presentation. She started off by thanking everyone and her drivers. While accepting the runner-up trophy, she said: "I lost my No. 1 ranking. It's not fair." Then, as Williams was being presented with her $1.5 million check, Jankovic asked, "How much did I get?" The answer, as she would soon find out, was $750,000. "So now I have a lot of money to spend," she said, laughing, in her news conference. "Tomorrow is my day to go shopping."
That shopping spree
should be interesting
. Right now all of the fetish shops in the New York City area are bracing for some big business.
Serena Williams Wins U.S. Open, Returns To No. 1
[NY Times]