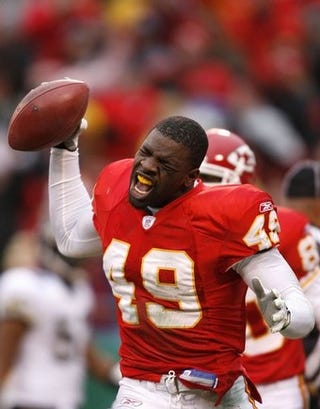 Bernard Pollard is not a well-liked man in New England and by crestfallen fantasy owners all across the country who watched their seasons disintegrate in an instant. (Darren Rovell says the Brady effect on Fantasy Football will cost some
owners $150 million.
Really. ) Pollard insists the left knee-knock he leveled Brady with early in yesterday's game was not intentional, no sir, not me, not a dirty player.
Not
"
Bonecrusher
." But the man is contrite. Based on his warbling comments to the
Boston Globe
, you'd think he was being grilled about a possible assassination plot: "It was not a dirty play, I'm not a dirty player. It's football. I can't do anything but pray for him and hope he comes back. As soon as he went down - if I was a dirty player, I wouldn't have apologized, I'd have got up and went my way. I immediately started apologizing. I went to my coach later and let my coach know [it was not an intentional play]. For the people who said [it was a dirty play], that's their opinion." and "It's football, it's the game of football. We got in and we tried to get to him, I hit his knee I think. I just tried to get him down. I wasn't really trying to put any force on any of his lower half, I just tried to get him down. Like I said, I can't do anything. I hope he comes back and is able to play with his team." and "As soon as he went down, I started saying, 'I'm sorry, my bad, I'm sorry. That right there, that's not going to bring him back, it's not going to heal that injury any quicker than what it is - that's just the type of person I am." No. He's not. Even though Pollard is a ferocious hitter, let's remember his true calling is —
dance
! So Pats fans. Your quarterback got taken out by
that
guy. The Dancing Bonecrusher.
Chief crushed by Quarterback's injury
[The Boston Globe]
Bernard Pollard: Safety/Exotic Dancer
[Arrowhead Addict]