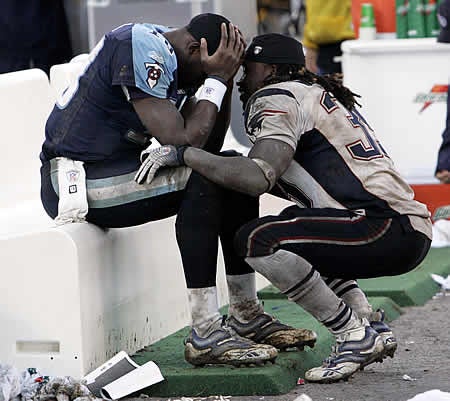 Plainly this won't be the last bit of news to trickle out about Vince Young's meltdown, but it's probably the last bit of news to explain the post-midnight visit with Coach Fisher. In addition to abruptly leaving his home without his cell phone, Young had a gun in the car. According to The Tennessean the gun was not loaded , but in Tennessee you can buy bullets easier than you can buy condoms. And we now know it was Young's friends and/or family who telephoned Coach Fisher and Coach Fisher who then notified the police to be on the lookout for Vince Young.
"Given the totality of the situation, Coach Fisher was concerned about Young's emotional well-being. He contacted the police department and expressed to us his concern,'' Aaron said. "Once he came to Baptist Sports Park and was assessed, it appeared the concerns from earlier in the night were unfounded.''
The Titans also issued their own statement:
"Last night, we received a call from people that are closest to Vince informing us that he had left his house in a state of mind that had them concerned; and that he was unreachable, having left his cell phone at the house. Not having all the facts available to us and approaching the matter prudently, we contacted Metro Police to make them aware of the situation and asked for their assistance in locating Vince. He was located at a friend's house, where we made contact with him. He then came to the practice facility where it was determined that those initial concerns by his friends and family were unfounded and he returned home without incident."
Vince Young's agent has just issued his own comments on the night claiming that Young just went to a friend's house to watch a little Monday Night Football. At least according to
Pro Football Talk
.
"This is all being blown way out of proportion," agent Major Adams told the Nashville City Paper. He just went to watch both of the games last night at a friend's house. I had talked to him. He told me where he was and everything. "He said he can't believe he can't just go and watch a game and people need to know where he is 24 hours a day," Adams said.
Which means, according to Young's people, he was watching former Vandy quarterback Jay Cutler—a player the Titans passed up over Young—dissect the Oakland Raiders defense. Of course it seems pretty unlikely that if this was all there was to the story that the resulting furor would have arisen. Speculating on someone's mental state is always freighted with danger. Not least because trained doctors and psychologists often differ after talking to the same individuals. But, clearly, Vince Young is not responding to the pressure of being a starting NFL quarterback very well. But —
why
? Of all the NFL cities where he could play, Nashville is probably one of the top five most laid back markets. Maybe the most laid-back and least critical in the NFL. There's only one major newspaper (and many educated residents question the use of the term "major" here), reporters are limited, by all accounts even local talk radio is civil and even-tempered. So if Young is feeling overwhelmed in this media market, he should be thankful he's not on either coast. But where does this leave us? By contacting the police Coach Fisher served notice that he truly believed his quarterback was in such a fragile emotional state that he might do himself harm. Clearly these concerns outweighed any fear, which Fisher surely recognized, that this story would become huge national news once he contacted the police. Any hope, at this point, that Young's refusal to re-enter the game was going to blow over is gone. For better or worse, and it's almost all for the worse, Vince Young's mental health is now more of a concern than his ability to read defenses. Or read at all. Quarterbacks like to believe that it's external forces: linebackers, critics, coaches, wide receivers, the media that create the greatest obstacles to their success. All too often, as we see now with Vince Young, the greatest foe is often inside.
Police: Titans feared for Young's safety
[Tennessean]
Agent says Young was watching football
[Pro Football Talk]