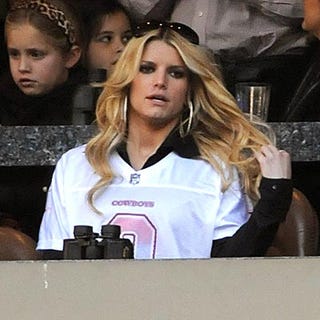 •
Dun-dun-duh-dah
: "Yes, despite "technical glitches" reminiscent of her little sister's appearance on Saturday Night Live a few years back, Tony Romo's special lady friend shouted "Go Cowboys!" Then, to top it off... regarding the upcoming Eagles-Cowboys game on MNF, she commented "That's next week! We're gonna kick your butts, too!" [
The 700 Level
] •
Unfortunately, he's not filming" Ladybugs II":
Ashton Kutcher is helping his friend coach a youth soccer team at a prep school in Los Angeles .[
The Beautiful Game
] •
That's one way to win a case against the university:
"I think the Court can absolutely positively take judicial notice that Duke is probably the worst football team in Division I football . Everybody knows that. That's no secret. The longest losing streak, the inability to ever win games. Everybody knows about it. That's well documented. We certainly don't have to go out and take six months of discovery to establish that for you."
[Lion In Oil
] •
Ric Flair has a very close relationship with his daughter's boyfriend:
The 22-year-old lad, not impressed with the Nature Boy's wrestling pedigree, blackened Flair's eye in a parking lot in North Carolina. [
Luol'sDong
]