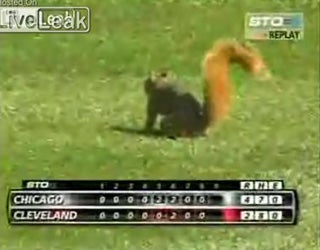 First of all, kudos to Cleveland broadcasters Matt Underwood and Rick Manning for not resorting to
Willy Wonka
references as this squirrel invades Jacobs Field in the ninth inning of the White Sox-Indians game last week. The Indians had the infield shift on and the squirrel obviously felt that third base needed to be covered. MLB purged the YouTube copy of this thing, but we have another version following the jump.
Click to view
Sadly, Chicago has lost three straight going into tonight's game with the Blue Jays. But somehow all I can think of is that squirrel jumping onto Berman's head and serving as a hairpiece for the remainder of the season. I know; weird. But now onto other AL business. If you're going to get a group of friends together to reenact a movie scene, it may as well be
Little Miss Sunshine
. Our group here are Los Angeles Angels broadcasters Bill MacDonald, Mark Gubicza, Steve Physioc, Jose Mota and Rex Hudler, the finest ensemble cast since the Brat Pack. No one gets left behind!
Angels Broadcasters in hilarious Little miss Sunshine video
[Larry Brown Sports]
Squirrel Interrupts Baseball Game ... Repeatedly
[Sun Sentinel]