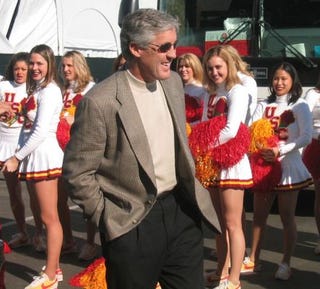 This weekend, I'm actually flying out to see Ohio State attempt to not get completely white-washed out of the Coliseum this Saturday night. (Current line,
OSU getting 10.5
. Not gonna be enough, methinks.) Even if this is a colossal ass-kicking, this will be my first big-time college football game I've ever attended. (The Temple/Akron Zips game I went to 20 years ago really shouldn't even count. Not even as JV high school game.) This weekend's game is obviously a tough ticket to get , especially the sideline tickets because, apparently, you can't really see anything football-like at Memorial Coliseum if you're in the normal seats. The
important
people, though, won't have to worry about craning their necks over the heads of the Trojan masses because they'll most likely get the coveted sideline passes. Those scheduled to roam the Erin Andrews terrain include Denzel Washington and Jamie Foxx, but some of the other recipients to receive the close to 200 sideline passes are being kept secret, to "create buzz", according to USC's athletic director. So, who else will get the sideline passes besides big-time donors and Denzel? I hope O.J. gets a pass.
Sideline pass to USC/OSU is hottest ticket in town
[LA Times]