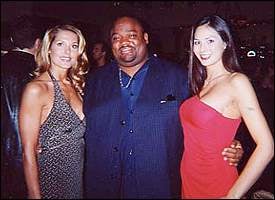 Love him or loathe him, Jason Whitlock is one of the most fascinating sports writers working today. His columns are always infused with a stridency and subversion that make his words compelling, regardless of how batshitty the context or opinion. Like Jason Whitlock. Like him a lot. And today's column in the Kansas City Sta r, "Advice To Belichick: Sign Jeff George" veers into that weird, nonsensical universe that makes it appear the big man's been smoking a little salvia between paragraphs. Yes, Whitlock is unabashedly in love with Jeff George's Right Arm . Has been for years. And any time he's given the opportunity to pimp his boy, he does it both out of East Indy solidarity and genuine admiration. Today he puts logic in action as to why Jeff George should be the man to save the Patriots season. Let's pass that tinfoil pipe:
Yes, I know Jeff George hasn't thrown a pass in an actual NFL game since 2001 and hasn't been on a roster since Lovie Smith and the Bears let him go at the end of the 2005 season. You do realize that Todd Collins went six years without starting an NFL game before leading Washington to three victories last season? You realize Todd Collins was never as good as Jeff George? You realize even at age 40 and having lived in football exile for three years, Jeff George still has one of the five best arms in the game? Oh, he can still wing it with the best of them. He's in great shape. He's ready to go right now. Bill, I'm not crazy. Yes, I'm in the tank for Jeff George. We grew up together on the east side of Indianapolis, and we take loyalty very, very seriously. He's not perfect. He mishandled his career and talent. But the dude is 40 now and still wants to play. He can get the ball to Randy Moss and stretch a defense.
(
Exhale...cough...cough....
) Maybe it makes sense. ( A little?) The reality is, the Patriots are one of those teams whose success isn't necessarily predicated on how well the quarterback does. No, Matt Casell can't dawdle in the pocket and chuck balls into the turf all the time, but if the Patriots are as good as advertised, getting a warm body behind center who can run the offense through Randy will suffice and not completely torpedo their season. If Casell doesn't work out, though, well...why not Jeff George? Actually,
why not
my mom? Or why not these little flute-playing goblins that have jumped into my lap?
(cough...cough...cough..)
Advice to Bill Belichick: Sign Jeff George
[KC Star]