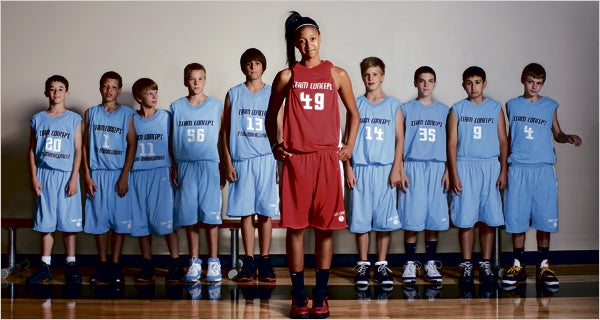 Oh man, those boys on that basketball team are done. Jaime Nared is a 12-year-old, 6-foot, 1-inch basketball player from outside Portland, OR. She's just finished sixth grade and she's now playing with a girls high school traveling team because she's too good to play with girls her own age. Perhaps the next Candace Parker. Or better. But being a prodigy has its costs, namely, where should Nared be playing? The last time she played against girls her own age, her team won 90-7 . Her coach described the game as "like having Shaq on the floor." Oregon State has already offered her a scholarship. From the New York Times' Play Magazine:
After the league cut Jaime from the boys' team, Williams called the Portland media. A local TV station aired Jaime's story, and a couple of weeks later she and her family were featured on "Good Morning America" and "CNN Headline News." Through the summer, Jaime received an outpouring of support - text messages from her former male teammates and notes from total strangers, including a 55-year-old woman who said she'd hoped to play basketball in the Olympics, but by the time women's basketball became an Olympic event, it was too late. To date, however, the Hoop has not reversed its decision, and Williams is considering a civil claim. (Hoop management did not return phone calls for this article.) "Sports brings out the best and worst in us," Williams says. "For me, it begs the question of how we do sports at the beginning. Particularly before puberty, why do we separate boys only, girls only? We say boys are stronger, faster, but that's a generalization."
Read on for a pretty fascinating article about how the world is reacting to a women's basketball prodigy.
Scary, isn't she?
[Play Magazine]