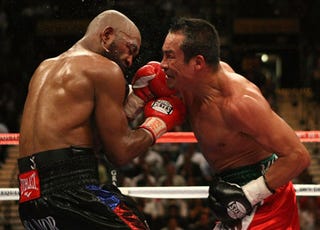 Juan Manuel Marquez is the new linear champion of the lightweight division after dominating Ring Magazine champ Joel Casamayor last night in Las Vegas. Once the 35 year-old got comfortable in the ring you never would have known he was coming up in weight to challenge the division's champion. Marquez began peppering away at Casamayor halfway through the fight, and the older fighter couldn't seem to keep up with the pace. Eventually the wear-and-tear caught up to the champ, and Marquez was able to floor him twice in the eleventh round. Referee Tony Weeks stepped in after the second knockdown to stop the fight, marking the first time Casamayor had been stopped in his Hall of Fame career. This just supports my long-held theory that an actual beard does little to protect ones chin from the assault of superior fighter. Marquez has now positioned himself for a potential third fight with pound-for-pound champion Manny Pacquiao sometime next year.
Redemption for Forrest.
Vernon Forrest won his light middleweight title back from Sergio Mora in convincing fashion with a 12-round unanimous decision. The veteran definitely made up for his previous sub-par showing that gave an undefeated Mora his first taste of a title, brief as it was.
Another win for Bradley.
Timothy Bradley seemingly came out of nowhere to dethrone Junior Witter earlier this year, and he followed it up with an easy unanimous decision over Edner Cherry in Showtime's headliner (by default). The 25 year-old undefeated champion finds himself in a great position in the light welterweight division, and he could be in line for some truly exciting fights. Hatton and Malignaggi are tied up in their upcoming encounter, but other guys like Kendall Holt and Demetrius Hopkins would make for even more interesting matchups.