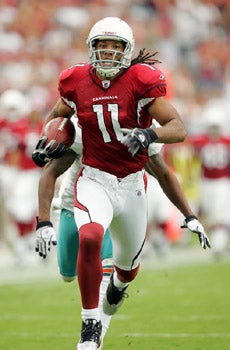 Bill Parcells must be wondering what kind of store you have to shop at to come home with groceries like Larry Fitzgerald and Anquan Boldin. All he knows right now is that his roster of players from Publix just aren't going to get the job done. The Arizona pair racked up 293 receiving yards on 12 catches with Boldin snagging all three of the touchdowns. Oh, he's on your fantasy team? Well nobody gives a shit. Arizona got the win by a score of 31-10 over Miami.
New England vs. New York Jets
- In the day's afternoon's least compelling contest the Patriots escaped with another victory behind New England's newest Great White Hope. Cassel was just 16 of 23 for 165 yards, but did you see him manage that game? Holy shit! The Pats took it 19-10 despite the gunslinger throwing his one touchdown in the fourth quarter.
Denver vs. San Diego
- Ed Hoculi is about as popular in Denver right now as Obama was a late August. The ref's inadvertent whistle saved Jay Cutler from what should have been a game-blowing red zone fumble. Instead Cutler had the opportunity to find Eddie Royal in the endzone for the touchdown and the game-winning two-point conversion. I fully expect Marmalard to encounter Hochuli at some point in the very near future.
Seattle vs. San Francisco
- Wow. Joe Nedney took a solid jinxing from the commentators right before missing a game-winning field goal attempt. We're heading for oooovertime in the NFC West. It would be nice if the Seahawk secondary could join them there whenever they're ready. I mean, I know it must be tough to cover those receivers with O'Sullivan is getting sacked every other play, but god damn. They're all locked up at 30.
Update:
Redemption for Nedney! The kicker gives the Niners a 33-30 overtime win. He scored almost as many points as Boldin, so I won't call him a choker for that fourth quarter gaffe.
Tampa Bay vs. Atlanta
- If Matt Ryan looked like a veteran last week, then he certainly played the part of the rookie today. The Falcons newest savior was 13-33 with two interceptions in the team's 24-9 loss. Earnest Graham led the way for the Bucs with a 116 yard day including one run of 68. The Steelers and Browns will take it from here on Sunday Night Football.