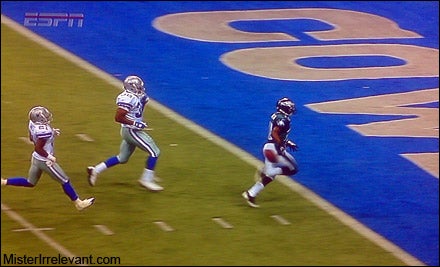 Yes, last night was disappointing in many ways, but it has not completely killed my faith: I still like my team. If anything, last night's Eagles/Cowboys game proved that Donovan McNabb is fully-recovered and that DeSean Jackson, Philadelphia's own Barack Obama, is still on pace to be the greatest Eagles' receiver in history. Obama's final line: six receptions, 110 yards. Oh. Wait. Did he do something else? Right. That . Obviously, Jackson can't be chucking the ball away a yard and a half before he actually makes it into the end zone. The one knock on the guy throughout training camp was that he was brimming with overconfidence and his tendency for showboating. I think we can all agree with that assessment. And as was pointed out multiple times, this wasn't the first time Jackson's premature celebrating cost him a touchdown :
Jackson had broken free for an apparent 53-yard touchdown reception in the 2005 Army All-American Bowl at the Alamodome when he spread his arms in a swan dive and dove toward the end zone. He landed at the 1-yard line. Fortunately for him, Jackson caught seven passes for 141 yards and threw a 45-yard touchdown pass to earn MVP honors as his West team won 35-3. "I redeemed myself with a great game," the Long Beach, Calif., athlete said. "It was a little embarrassing, but I did it, so I just had to move on."
And he'll move on again. We all will. It'll take a little more than an aborted touchdown to make Philadelphia love him any less. Well, me at least. ***** Some notes from last night: Unfortunately, I couldn't come up with a decent bar to watch the game with my Eagles' brethren but the next time this opportunity arises I will plan better. Thanks to those who text-messaged suggestions and to those who just text-messaged for the sake of text-messaging. A very special thanks to all of those non-Eagles fans who took the time out of their busy schedules to shit talk. Some of my favorites: • "Your eagles suck. Don't show your faces in this division again this year. A Giants fan." • "Eagles fucking suck. I hope this game is a 0-0 tie." And my favorite one, from an ESPN personality who happens to be a rabid Dallas Cowboys fan: • "Eat paste you dick loving eagle douchebag. DeSean Jackson makes Vince Young look like a Mensa member."
Best. Celebration. Ever
[Mr. Irrelevant]