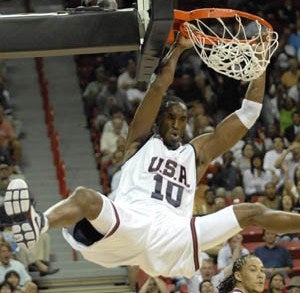 Bidding is up and running now and will continue until September 30. But break out the checkbooks and keep adding zeroes. Already Kobe Bryant's jersey has nine bids and is up to $1,600 . Women's team jerseys will also be up for auction. Surprisingly, they aren't fetching as high of bids now. You can't escape sexism. Which games were the jerseys worn during? Per the USA Basketball Official Site:
Fans will be able to bid on each jersey worn by the USA Basketball Women's Senior National Team in their victories over China on Aug. 11, and Spain on Aug. 15. Two sets of jerseys from the USA Basketball Men's Senior National Team also will be up for auction. The jerseys are from the team's games in the USA Basketball International Challenge against Russia on Aug. 3 and Australia on Aug. 5.
Wait a minute, the Olympics didn't start until August 8. So they're actually auctioning off game-worn jerseys from before the actual Olympics started. That's kind of diabolical of the USA Olympic Committee. The bastards. Also, since the NBA is auctioning the jerseys, where do the proceeds go? Shouldn't it be to a charity of some sort? The article doesn't say.
US Basketball giving fans a chance to own a piece of history
[USA Basketball Official Site]
Auction Site
[NBA]