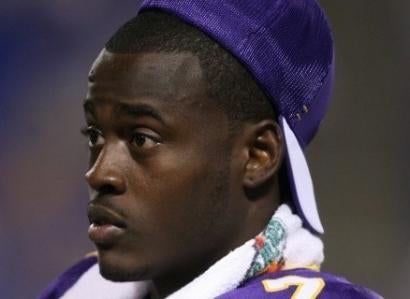 The biggest question mark for the Minnesota Vikings going into this year was if second-year quarterback Tarvaris Jackson had progressed enough to run the offense. The flirtations with Brett Favre not withstanding, Vikings head coach Brad Childress made a valiant effort to put his faith behind his shaky quarterback even though nobody really believed him. Well, Childress has seen enough of Jackson's dawdling so far this season and has opted to start journeyman quarterback Gus Frerotte this Sunday instead. The news has the Minneapolis area quaking, it seems, because the Star-Tribune stories about the move have crashed in the last 30 minutes.(Sorry about that Mr. Rand . Totally wanted to give you credit for the story. Go yell at your superiors.) One Vikings fan, Drew Magary, had this to say about the move:
FUCK YOU, BRAD CHILDRESS. YOU AND THAT JACKASS FRAN FOLEY TRADE UP TO DRAFT T-JACK, THEN YOU SPEND THIS ENTIRE OFFSEASON UPGRADING THE ROSTER EXCEPT AT THE FUCKING MOST OBVIOUS PLACE OF NEED?! Now Gus Frerotte is all we have, and that's because your giant fucking ego couldn't handle being wrong about T-Jack. FUCK YOU IN THE PANTS, YOU FUCK.
He seems pleased. If anything, Frerotte will bring a level of unpredictability to the Vikings offense, one that may or may not result in him
knocking himself unconscious
. Right now, Metrodome workers are adding an extra layer of padding to the walls.
Vikings Bench Jackson Go With Frerotte
[AP]