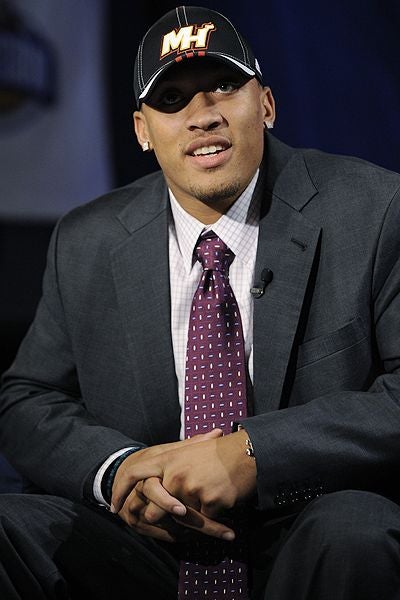 The NBA handed out punishments to former Kansas players Mario Chalmers and Darrell Arthur for that Rookie Transition Training incident, but it turns out that Kansas State's Michael Beasley was also there that night, partaking in the nefarious, smoky late night activities. The Heat's number one pick was slapped with a $50,000 fine after he finally admitted he was in the cheeba-and-chick filled hotel room that night, but only after weeks of dodging the accusations and separating himself from the incident. TrueHoop's Henry Abbott seems legitimately concerned for the former K-State stud, whom he calls "rudderless"after this latest incident which comes soon after the odd ordeal with his former agent :
Maybe these kinds of messy decisions are par for the course for someone his age. Here's what worries me though: He's at a stage where he's taking a big step up. The level of competition he's facing is about to leap. Those are times when it's all about work. When there is a lot to prove. It's like exam day. (One of the early exams is a basic intelligence test: Can you stay out of trouble throughout the few days of the League's seminar on staying out of trouble?) Beasley's house may not be in order — but some other players' are. They're working it all out. All those worries, the agent selection, the marketing deals, the money management, the things your family needs from you, the trouble with the league ... it all takes time and energy.
Miami Heat president Pat Riley
backed Beasley
and praised him for (eventually) coming forward and admitting it, but only after he took his number one pick to the top of the American Airlines Arena and scared him straight:"You smoke weed, doncha! Go ahead. Jump!"
The Good Ship Michael Beasley, Adrift
[TrueHoop]