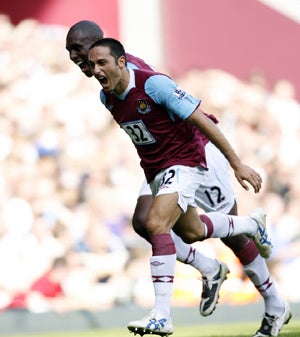 Who needs some fancy sponsor when you've got a new manager in Chelsea legend Gianfranco Zola? Not the Hammers apparently, because they came out and feasted on the Magpies with nothing adorning their shirts but a crest and a number. West Ham picked up their third consecutive win at Upton Park behind a pair of goals from Zola's countryman David Di Michele who is on loan from Torino. The Italian struck in the seventh minute with another coming a half-hour later. Matthew Etherington added a third goal for the Hammers in the second half before Michael Owen earned back a bit of respectability for Newcastle with his otherwise meaningless 66th minute strike. The Hammers now have nine points on the season, firmly entrenching them in the top half of the table for at least a couple more weeks. •
The spoilers from Stoke City.
What the hell is wrong with Liverpool? I opted to watch the golf instead of this match, and I'm quite satisfied with that decision. Liverpool and Stoke City played to a scoreless draw thanks to the apparently impenetrable Stoke City back line and keeper Thomas Sorensen. An early would-be goal from Steven Gerrard was disallowed when Dirk Kuyt was determined to be offside by the linesman. Liverpool had their chance to put some distance between themselves and Chelsea before tomorrow's big match, but instead they were forced to settle for the disappointing draw. •
In progress...
Arsenal is leading Bolton by a score of 2-1 after falling behind by an early goal from Nolan. The Gunners got back to level on a 26th minute strike from Eboue before Bendtner put them up just moments later. They're still hanging on by that same score with twenty minutes left to play at Reebok Stadium.