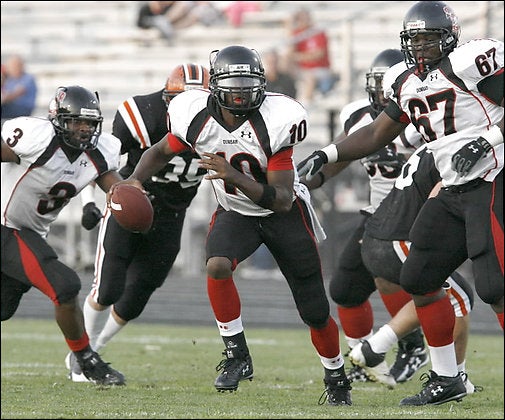 Unless you were away from civilization for the past few days, you're probably up to speed on the Josh Howard National Anthem fiasco. Mark Cuban took down the infamous post featuring crazy emails from crazy racists, but blatant racism reared its ugly head yet again this weekend in the world of sports. This time, the madness took place in Cumberland, Maryland, during a high school football game between Fort Hill and Dunbar, which, according to KOGOD "is the school that has produced Vernon Davis and Joshua Cribbs recently. Plus about half of the Illinois football team." And this is their story :
Leading 14-8 midway through the third quarter last night at Fort Hill in Cumberland, Md., Dunbar Coach Craig Jefferies said he pulled his team off the field after Crimson Tide players were subjected to repeated racial epithets. "They were trying to upset us, calling my guys the N-word. I had one guy in tears. I had to take him off the field," Jefferies said, adding that as he walked with his team to the locker room he was verbally accosted with slurs. He said the team was forced to stay in the locker room for 30 minutes while police established a secure path for the team to board its buses.
Classy move by the coach to pull his team, even though they were leading the game by a touchdown. Sometimes victory just isn't worth it if you must endure sub-human behavior to get it.
Dunbar Quits Game, Cites Racial Taunts
[Washington Post]