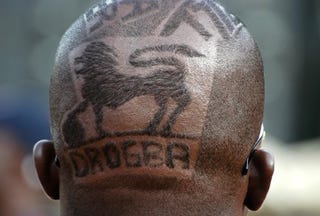 We've had to wait since May's epic Champions League Final but the time has finally come for the Blues of Chelsea to take on the Red Devils of Manchester United. Holy crap, I'm all tingly. Obviously I'm a bit of a homer for Chelsea, which is why I won't be live blogging the contest. That and I'll be too busy getting drunk. Continue after the jump for a preview of the huge match and follow along in the comment section.
The evil fuckers.
AKA Manchester United come into the game off of a mid-week scoreless draw against Valencia in the Champions League and they are in need of a win to keep from falling too far back on the Premier League table. Just as United has begun to incorporate Dimitar Berbatov into their attack they've gotten Cristiano Ronaldo back from injury. The world's most decorated player will be making his season debut in the Premier League in an attack that also features Carlos Tevez, Wayne Rooney, and the aforementioned Bulgarian headband enthusiast.
The glorious saviors (that everybody hates just as much as Man U).
With a win Chelsea can vault back to the top of the league table and avenge their double loss to Manchester last season. They come in to this home match having scored seven goals in their previous two matches against Bordeaux and Manchester City, and Didier Drogba is ready to rejoin the regular lineup. The dominating striker should benefit greatly from Big Phil Scolari's new system, and his Portuguese imports Deco and Bosingwa. Both players have shown the ability to feed the ball into the striker's position, especially the impressive the fullback whose services have already created numerous scoring chances out of thin air this season. Now sit back and enjoy what should be a fantastic morning of soccer between England's top two clubs. But stick to lighter beverages for now, there's still plenty of American football to come. Marcel will be back with you at the regularly scheduled time so don't forget to send your tips to marcelmutoni@gmail.com.