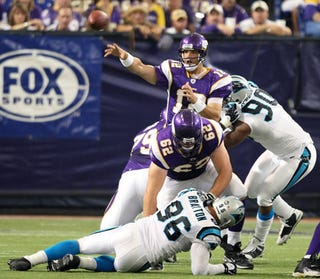 Gus Frerotte, the journeyman QB, may have saved the Vikings' season this afternoon. Behind Frerotte's 37-year old arm, and a relentless defense, the Vikes extinguished Carolina 20-10 and notched their first victory of this young NFL year. Purple Jesus wasn't very god-like, as the injured back carried the ball 17 times and ended the day with 77 yards.
• Browns at Ravens:
In a scary moment, safety Dawan Landry was carted off the field after taking a knee to the head as he attempted to take down Jamal Lewis. The good news is that, according to hospital staff, Landry
has full movement
of his arms and legs and didn't lose consciousness. Landry's teammates picked up the slack, easily beating Cleveland and sending the Browns spiraling to 0-3.
• Rams at Seahawks:
St. Louis never had a chance in this one, as Seattle completely worked them over from the opening snap. Hasselbeck cooled off some after the halftime break, but still managed to lead his squad to a comfortable 24-point victory. The Rams begin the season with an ominous looking 0-3 record.
• Jacksonville at Indy:
The Jags walked into Indy's house and shocked the Colts, beating Peyton (who struggled with his completions for much of the afternoon) and the boys 23-21. Maurice Jones-Drew was a monster for Jacksonville, carrying the ball 19 times for 107 yards and a touchdown. However, it was Josh Scobee who played the role of the hero today, as his 51-yard field goal split the uprights with time running out.
• Lions at Niners:
Matt Millen would like you to know that this 0-3 start to the season is but a funny little wrinkle in his master plan for NFL domination. Trust him and stay the course, Lions fans, this thing is
thisclose
to getting turned around.
• Steelers at Eagles:
McNabb came back into the game after going to get a checkup on his chest in the locker room, and led the Birds to an ugly 9-point win over the Steelers. Whew, there'll be no looting in Philly tonight.
• Broncos at Saints:
This was quite possibly the best game of the day, a back and forth high-scoring affair. Jay Cutler and company moved to 3-0 after beating New Orleans in the Mile High City, 34-32. Pierre Thomas's 10 yard TD run in the fourth proved to be the difference. It should also be noted that Reggie Bush had himself a solid afternoon in the losing cause. And it don't stop: Packers and Cowboys kick off in less than an hour ...