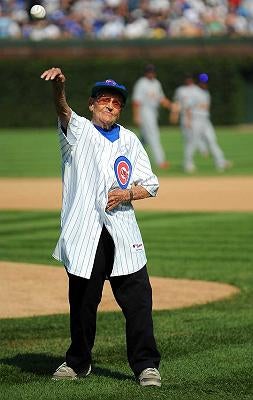 Perhaps recognizing that the tons of bad publicity the story had been generating just wasn't worth it, the Chicago Cubs relented on Saturday and let 104-year-old Leo Hildebrand throw out the ceremonial first pitch prior to their game with the Cardinals. Here is Leo throwing the hard cheese, although he looks a little confused by that newfangled contraption they call a "catcher's mask."
Hildebrand, seated in a wheelchair before the game, had player after player shake his hand and sign a baseball, some promising at one point to ``get it done today'' — the clinching of a second straight National League Central title. But the team kept secret the plan to have Hildebrand throw out a first pitch until just before the scheduled 2:55 p.m.game time start. Pitcher Kerry Wood was to break the news, escorting Hildebrand to the mound.
As late as last week the Cubs had said they weren't going to let Leo pitch, but they finally relented, probably thinking what the hell, he couldn't be any worse than Neal Cotts. Also, no one had the heart to tell him
that wasn't actually Christy Mathewson
he met.
104-Year-Old Cubs Fan Gets Wish To Toss First Pitch
[Chicago Sun-Times]