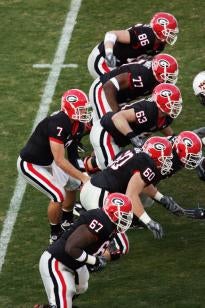 The premier game of this Saturday's college football schedule is the evening tilt between No. 3 Georgia and No. 8 Alabama, two SEC schools that have very little animosity toward each other. The host Bulldogs are instructing their fans to dress all in black as part of an innovate strategy designed to trick their opponents into believing that a vengeful Zeus has snuffed out the sun.
Alabama defensive coordinator Kirby Smart
Alabama Strength and Conditioning Coach Scott Cochran is not fooled, however, and has offered his team a different explanation for the "blackout" option: "
They are going to a motherfucking funeral.
" The idea that a college football coach might use foul language in front of his own players is shocking, of course, but fortunately folks in the region don't take this football thing too seriously, so you probably won't hear much discussion about it down there for the next three-and-a-half days or so. We're sure that Georgia fans will appreciate the good-natured ribbing for what it is and will welcome that nice Mr. Saban and his kids with lemonade and oatmeal cookies—and not over-sized cardboard tombstones and horrifying death masks. And certainly no swearin' Listen very, very carefully at about the 1:00 mark and you can make your very own bulletin board to pin it on: •
Alabama Coach Says Georgia Bulldogs Are Going to a MF'ing Funeral Saturday Night
[The Sporting Blog]