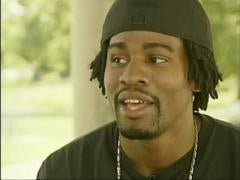 Big things were expected of running back Thunder Collins when he arrived at Nebraska in 2000 from East Los Angeles Junior College, where he was an All-American. But things never turned out the way he had hoped, either on the football field or in his personal life. As a runner he turned out to be one-dimensional; a grinder without much elusiveness. Off the field he gained a reputation for making trouble. He left Nebraska without earning a degree, but returned earlier this year to finish his studies, determined to steady his life and give the NFL a try. But late Wednesday Collins was arrested nearly 24 hours after a shooting left one person dead and another seriously wounded, Omaha television station KETV reported. Collins — whose given name is Thunder — is accused of first-degree murder , attempted second-degree murder and felony weapons charges following an incident in Omaha. From a 2006 story on Collins by KETV-TV7 :
Collins showed flashes of brilliance in 2001 as a Husker I-back, but those moments would prove fleeting. "I remember them like yesterday," Collins told KETV NewsWatch 7. Four years later, the star-crossed former Husker is trying to build new memories by finishing what he started in Lincoln. He's back in school at NU, rehabilitating some recent injuries and standing just a semester away from earning his degree. "I'm basically trying to stay focused and get back to where I belong," Collins said.
Collins, 26, said that he was just a few credits short of earning a sociology degree. He said he was trying to turn his life around, with the goal to make it in the NFL. Apparently, a sad end to the story.
Former Nebraska Running Back Charged With Murder
[NBCSports]