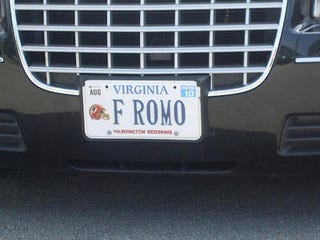 Sunday night can't get here soon enough for Washington Redskins fans, one of whom slipped this little gem past the ever-vigilant profanity watchdogs at his local Department of Motor Vehicles. The plates on his other car say "Assman." Elsewhere, noting that Terrell Owens is not in the NFL top 10 in either receiving yards or receptions,
Blogging the Boys is predicting
a huge, breakout game for him against Washington. Which means that if he doesn't get it, we may see the first temper tantrum of the season. Either way, fun! Also,
Hogs Haven has invented a new term for the word "underdog",
saying that the Redskins are 11-point "ewoks" against the Cowboys. They also take issue with the fact that the final game between the teams at the old Cowboys Stadium is so early in the season. Yes, having it at the end of the season would be better, if both teams are in contention then. But there's no guarantee that will be the case.
Quite Possibly The Greatest License Plate Ever
[Fan IQ]