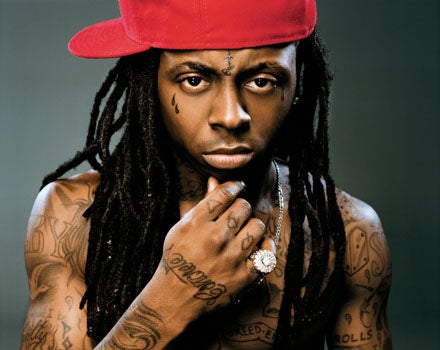 The rapper personally responsible for rejuvenating hip hop has now cashed in a huge chunk of his street credibility for a chance to blog for ESPN. His first entry was published today ( Title: AARON RODGERS 'HAS BEEN WONDERFUL') and it's surprisingly more coherent than many of Stephen A. Smith's face-typed ramblings. But it's still probably not going to make anyone who works at ESPN less terrified of him. Actually, based on the editor's note introducing the item, it appears that's precisely the reason they published it to begin with:
Ed's note: This is the first in a blog series by mega-rapper of the moment Lil Wayne. When speaking to him for a package about at-bat music in MLB (a bunch of guys use Lil Wayne), he offered to blog for us. Awesome.
And like Hemingway, Lil' Wayne is a fan of short, declarative sentences:
I grew up playing football. Believe it or not, I was a fullback. When I was nine, ten, eleven, I was a great blocker. I knew how to block real good and the other kids didn't. So there I was. One game when I was ten years old we were on the goal line about to score, and coach called the play for me. I was supposed to go one way, but I ended up sneaking around the other side on a sweep. Everybody thought I was already tackled. The ref was already blowin' his whistle. But I was still up and I stutter stepped one way and beat the last guy trying to get me and scored that touchdown. That's my favorite sports memory for myself.
It's unclear whether Wayne actually typed up this column himself or, like most of ESPN's other celebrity bloggers, simply shouted sports-related nonsense into the phone to a frustrated freelance editor in charge of making it palatable for an audience unfamiliar with "Alphabet Bitches". For the sake of that editor's personal safety, I hope Wayne is happy with the end result.
Aaron Rodgers 'Has Been Wonderful'
[ESPN] (via
What Balk People Should Do Now
)