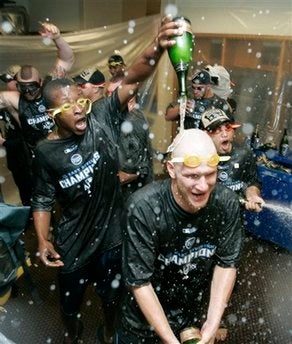 •
Tigers 6, Rays 4
The Rays lost to the Tigers last night but that didn't prevent fans on Main Street in Tampa from celebrating. With the Yankees putting up 19 runs to beat the Red Sox at Fenway, Tampa Bay clinched their first ever American League East crown. One more time: The Tampa Bay Rays are the American League East Champions. Of course, Boston and New York had to spoil the celebration with rain delays at Fenway, forcing the Rays to wait until early Saturday morning to rock the goggles. The geriatric fans in Florida who wanted to get rowdy were not happy to be kept up past their bed time. •
Yankees 19, Red Sox 8
Derek Jeter left the game because he had a sore hand and may have broken a nail. Cody Ransom, his replacement, belted two home runs and finished three for three with three runs scored. After the game, he and Johnny Damon had a threesome with Shonda Schilling. •
Indians 11, White Sox 8
Ozzie Guillen is no longer mad. He just laughs at you, John Danks. •
Brewers 5, Cubs 1
With a one game lead over the Mets in the NL Wild Card race, Milwaukee now controls their own fate and turns to Ben Sheets today. •
Marlins 6, Mets 1
New York's late season suckitude continues. Manager Jerry Manuel's post-game quote sounds awfully familiar, "We really, really have put ourselves in a tough spot. We're the only ones to blame. We had opportunities and we didn't get it done." Of course you didn't. With their backs to the wall today, the Mets will start Johan Santana after just three days rest and coming off a 125 pitch outing. Aaron Heilman promises to fuck it up.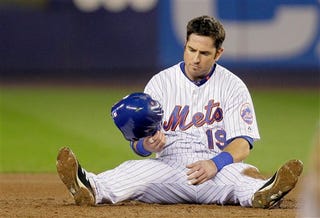 •
Phillies 8, Nationals 4
Ryan Howard continues to make his case to keep the NL MVP trophy in Philadelphia. Howard bashed his 48th HR of the season in the first inning giving the Phillies a 3-0 lead they never looked back from. Average Joe Blanton pitched well enough to notch the W and put the Phillies magic number at one. A Grandpa Moyer win today would not only clinch the division but also allow Cole Hamels to avoid pitching Sunday on short rest, thus setting him up as the NLDS opening game starter. I'd like that. While Antawn Jamison Daulerio was ready to
jump off
the bandwagon last night,
Sarah Palin borrowed his jacket
for the evening.