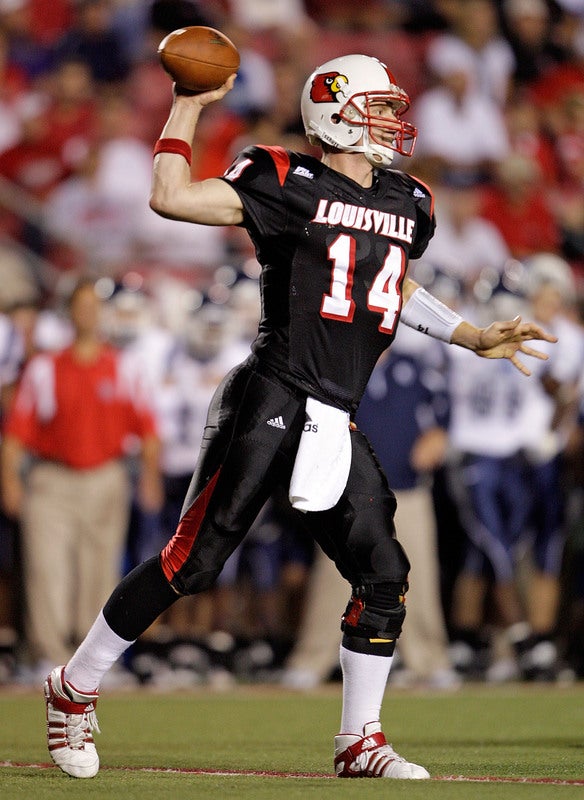 After their 26-21 loss to Big East rival UConn, the Louisville Cardinals' short run as a nationally prominent football program seems to be winding down. First-year starting quarterback Hunter Cantwell threw a pick-six in the last three minutes of their game last night, snatching defeat from the proverbial jaws of victory. Connecticut's Donald Brown ran for 190 yards and a TD in the win. He's the nation's leading rusher for a reason...I admit I don't know what that reason is.
"I thought we moved the ball well, but we were our own worst enemy," Louisville coach Steve Kragthorpe said. "You've got to control the football when you have it and we didn't. Obviously a disappointing loss. We thought we let it slip away."
The Cards (2-2, 0-1 in Big East play) are now 8-8 in the Steve Kragthorpe era. With the rough starts from Rutgers, West Virginia, and now Louisville, the Big East is losing what little caché the conference had began to accumulate Only UConn and 13th-ranked South Florida Bulls remain undefeated in the league. The Bulls visit Louisville in four weeks. I have a feeling good seats will still be available.
UConn rallies to beat Louisville
[Yahoo! Sports]