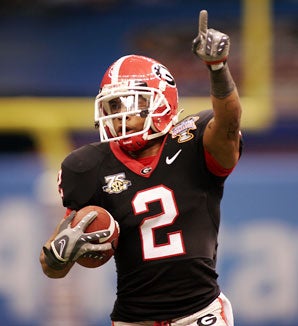 Georgia is whipping out the (yawn) black jerseys for their game against the Crimson Tide tonight, which I guess is fine, if you don't get worked up about the concept of landscaping or the lineage of dogs. Penn State, kicking off their conference slate tonight against Illinois, will be wearing their traditionally-road-game whites at home, and asking their fans to do the same. Clemson is wearing their purple jerseys in their upcoming loss to Maryland. What are you wearing for the games today? I hope it's something sexy, because I'd hate to break down the noon games any other way.
Minnesota at No. 14 Ohio State.
So the Terrelle Pryor era has finally begun in Columbus. He's a bona fide double-threat playmaker that gives a traditionally boring Buckeye offense another dimension. And preseason Heisman hopeful Beanie Wells returns just in time to open Big Ten play.
Maryland at No. 20 Clemson.
Herbstreit has already called this one: the Terps are going to roll in Death Valley. If Clemson can answer the bell and hold serve at home, their ACC title hopes remain alive. But don't hold your breath.
Ole Miss at No. 4 Florida.
Ole Miss looked solid in their
win
close loss against Wake Forest at home, but they really don't have a chance against Tebow and Friends in the Swamp. Florida should roll here and hold their opponent to ten points or less in their fourth straight game this season.
North Carolina at Miami.
These programs stand at a crossroads. Tar Heels head coach Butch Davis obviously led the Hurricanes before bolting to the NFL and leaving that program to eventually decay. Miami can take a step back to the national stage, or they can be cut off at the pass by their old steward looking to do the same in Chapel Hill.