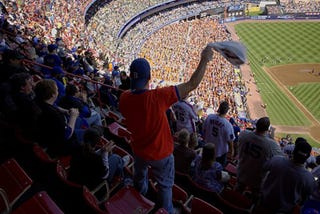 The Beatles played there, Pope John Paul II took a spin around the infield in the Popemobile, Spider-Man married Mary Jane Watson there, and one day in 1986 Bill Buckner rather famously had a ball roll through his legs. On Friday we asked you to send us your Shea Stadium memories, and you came through. Another staggering late-season collapse has ended the Mets' season prematurely; the last at Shea. So what better time to reminisce? Here are your Shea Stadium stories, presented by us as they were received; with trace amounts of mustard and beer, and stained liberally with your tears. Enjoy.
Thanks A Lot, Joe
. This seems bittersweet to share a Shea Stadium memory after Sunday's debacle, but I've got a keeper for sure: May 23, 2004. I'm sitting in the nosebleeders (aka the Upper Reserved) with my brother Joe and a few friends — including my friend Sean, the most militant but pessimistic Mets fan I know. After Tom Glavine logs his first out of the game, Joe announces, "26 outs to go for a perfect game!" Innocent enough, except Glavine would pitch 6 perfect innings. Sean's temper flared higher with every out up until Glavine walks the first batter in the 7th — blowing the perfect game but keeping the no-hitter in tact. Joe adjusts his pronouncements accordingly. "9 outs to a no-hitter!" Sean expressed his rage by shouting at Joe and crushing those mini-helmets they use for ice cream. Anyway, Glavine retires the first batter, Jeromy Burnitz, in the 8th and Joe counts down accordingly. Shortly after retiring Burnitz, a Special Education group sitting behind us begins to file out of their seats to head home. One of the students has a seizure and falls forward onto me, pulling my head and neck straight downward. I managed to grab the incredibly-heavy kid around the waist (as if I were going to give him a powerbomb) and hold on to him until the seizure subsides, preventing him from rolling down the Upper Deck seats. I only point this out because while it occurred, Glavine retired Matt Holliday. And with the commotion, Joe didn't count down the number of outs for the no-hitter. The next batter, Kit Pellow, broke up the no-hitter in the next at-bat. Sean blamed Joe for counting down the outs in the first place. Joe blamed the falling kid for distracting him. And I blamed Tom Glavine, who fucking sucks so goddamn much. The kid was OK. Joe and Sean haven't spoken since. And instead of the first no-hitter in Mets' history, I ended up with a mentally-challenged mass of humanity trying to break my neck. Kinda like Prince Fielder.
— Matthew Artus
•
Have A Seat
. I don't know if this was during Kingman I or Kingman II — but they sure sucked. I don't remember who they were playing but they mounted about a 6-0 lead. No opportunities to bang our seat cushions. With 2 out in the bottom of the 9th — the inevitable happened. Kingman, bases empty solo home run. As if on cue, 10,000 seat cushions instantly cascaded onto the field. The announcer sternly warned, "anyone caught throwing anyth..." Cue 10,000 more seat cushions. PS — the Mets lost 6-1.
— Charles Zucker
•
Nixon's The One
. My dad used to get press box seats at Shea through his work We had to go through the Diamond Club to get to the seats (right next to channel 9's camera!) Went to meet my father with my two brothers. Wound up in the same elevator with former President Nixon (I think this was in '89 or 90). I didn't know you were supposed to refer to them as "Mr. President" even after they left office. My brother said hello, and mumbled that I should say hi to the president. I called him Mr. Nixon. He tussled my hair and laughed. The Mets lost to the Phillies 5-3, my brothers got really drunk and heckled Mike Schmidt. Good times.
— Paul Cassidy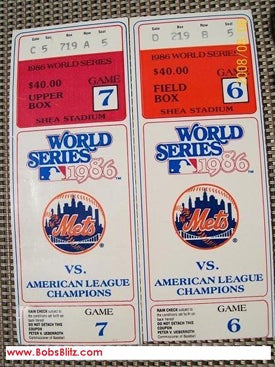 •
That's The Ticket
. Need I say more? (See photo). Though a 2nd memory was a bit less obvious. 1987 — had purchased tickets through Ticketmaster for a slew of games ... including one Saturday v. the Cubs. We went to Shea, went to our seats and sat. 20 minutes later another group of 4 arrived with tickets for the seats we were in. Re-examining our tix, We had tickets for ... Sunday. Obviously before the days of ticket scanning because no one caught this. We went to Mets offices and wound up in the owners box slightly behind home plate next to the broadcast booth. Not bad.
— Bob Mantz
•
Banner Day
. The 1979 Mets were a terrible baseball team. Led by OF Lee Mazzilli and P Craig Swan – sort of in the way that Creed was led by Scott Stapp and Mark Tremonti – the team finished dead last in the NL in attendance and didn't even draw anywhere near a million fans to Shea that year. I was one of those lucky few. My dad snagged box seats about 15 rows up from the first base bag for a Banner Day doubleheader between the Mets and the (also incredibly shitty) San Diego Padres. Banner Day – when fans create oh-so-clever banners using bed sheets with markers, crayon or goat's blood on them and walk them around the field before the game – much like a true doubleheader, doesn't seem to happen much anymore. As fans with banners were herded toward the field, and incessant Donna Summer tracks blared over the PA system, I tried to get autographs – succeeding only with Met OF Elliott "Not Gary" Maddox and Padres 1B Jay Johnstone in his pre- Lighter Side of Sports days. (My father told me their signatures ruined the baseball I had them sign. He was right.) Meanwhile, a drunken fan continuously called out to Joel "Played for Two Teams in One Day" Youngblood of the Mets, who was soft-tossing in front of the first-base dugout. "Joel…Joooooel…Jooooooooellllll!..." Youngblood, and everyone else in the fairly quiet section, heard the guy. Yet he didn't respond and the evenly-spaced calls out to him went on for about five full minutes until a disgusted Youngblood looked up and yelled back: "WHAT?" The fan paused, wobbled and yelled "You suck, Joel!" The few fans there all broke into laughter as Youngblood just sighed, dropped his shoulders and started throwing again. When Met 2B Doug Flynn came out of the dugout to throw, the guy waited a minute and started … "Flynn …. Flyynnn … Flyyyyynnnnn … "
—Joe Student
•
This One Was For All Of Them
. I'm not a good enough writer to describe how Mike Piazza's go-ahead home run in the bottom of the eighth inning on September 21, 2001 lifted an entire city. I remember standing up and cheering with my friends, at a time when none of us could imagine ever smiling again. I was a freshman at NYU, and just 10 days prior, the tragic events of 9/11 brought about unspeakable pain and suffering. To many, going to a game during a time of mourning was appalling and heartless, but we needed baseball to remind us that we could get past the tragedy and move forward. After Armando Benitez (who else?) gave up a run in the top of the eighth, putting the Braves ahead 2-1, Shea was eerily quiet and dejected. The good vibes from the touching pre-game tribute were all but gone; I don't think we had the heart to go home with another loss. And that's when it happened. Edgardo Alfonzo reached on a walk and set the stage for Piazza to rescue the Mets, and in many ways, us all from being down. I'm not ashamed to admit that it was the only time I ever cried during a sporting event. We left the stadium in a state that was somewhere between hysteria and disbelief. Whatever that feeling was, I'll never forget it.
— Alex aka Candace Parker Secret Lover
•
Wave Of Regret
. July 1997, homer hankie night. Fifth inning, Pete Schourek pitching for the Reds gives up his first hit to light hitting Rey Ordonez. Rick Reed (batting a hearty .143) clocks one off the left field foul pole. We fell out of our seats laughing. A couple of years later, Reed now on the mound, an embarrassing wave starts. A fan a few seats over in the mezzanine starts yelling "Don't do the wave, what are you nuts?" He explains to his buddies "Reed can't pitch when these assholes do the wave, watch — he's gonna have a melt-down". Ball four. OK, lucky guess. More waves. "Every time they do the wave and Reed is on the mound he walks a couple of guys then gives up a tape measure home run." Reed grooves a 3-0 fastball which is lined neatly into left field, first and second. The guy gets up and says "I'm not going to sit here and watch this — guaranteed he's going to give up a home run now." Guy walks up the aisle (we're in the mezz boxes) and we never see him again. You know how this story ends.
— Breck Witte
•
Pen Pals
. One of the beauties of Shea Stadium is that when the Mets are bad, it has that minor-league homey feel that's rare elsewhere. As a 7 or 8 year old, I won a Bubbilicious contest to attend a Mets game in the barbecue area in Shea Stadium's left field. About 20 minutes before the game started, my Mom and I got bored of the bubble-gum feast and decided to explore. We pushed open a gate and started walking down a long, blue tunnel. We walked and walked and the next thing we knew, she and I had made our way into the Mets bullpen during pregame warm-ups. Pete Schourek was throwing and pitching coach Mel Stottlemyre was watching. Though one would expect an immediate call to security, Schourek instead stopped his warmup tosses, walked over to greet us, and, along with Stottlemyre and the bullpen catcher, signed a ball that still rests on our bookshelf. Schourek then took the mound to start the game. Nowhere else but Shea would a team be so friendly and naive.
— Andrew
•
You Gotta Believe
. My favorite Shea memory is my oldest sports memory. October 16, 1969. Game five of the 1969 World Series. Yes, I was one of the around 57,000 who were in attendance to witness the Amazins winning their first World Series after seven seasons of being a laughingstock. My family, mom,dad and two older brothers, sat in a box about 10 rows behind the Met dugout for that game. While I don't recal a lot about the game, I was only six at the time, I do recall two teenagers rushing by us in the top of the ninth to go out on the field to shake Donn Clendendon's hand at first base and I do recall the post game celebration when the crowd went on the field. While my family did not rush on the field, my brother Craig, nine at the time, did ask my father if he could but my father said no, we did celebrate in the stands. As you may know, the fan tore up the field. Later, as we were waiting for the Long Island Railroad train to take us home, my father found a piece of the Shea Stadium turf discarded on the platform. He retrieved it and took it home and transplanted it in our backyard.
— Kevin aka UkraineNotWeak
•
The Wonderful World Of Mr. Met
. During the 7th inning of a win over the pirates some time back, a few pals and I noticed a camera crew coming towards us in the upper deck. A kid two rows in front of us had just been selected as the fan of the game. We, of course, were mugging up behind him and were on the big screen. Mr. Met, of course, was there too. He was smiling (well, he's permanently smiling) and seemed to be enjoying himself. I happened to follow the camera crew and Mr Met up the stadium stairs while I was on my way to the bathroom for some well needed relief after a few stadium tall boys. Going down the skinny corridor I happened to tap Mr Met on the head very gently for a "Hey! Mr. Met – you rock!" but before I could utter the pleasantries, Mr. Met turned around and violently checked me into the wall and gave me the classic Shea Stadium greeting – "Go Fuck Yourself, Asshole. You like getting smacked on the head?" Nothing like a day game at the Sheadium.
— Colin Gilbert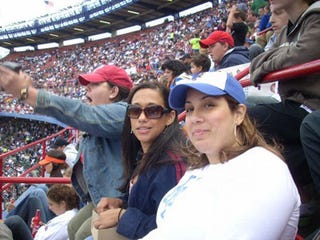 •
A Little Something For The Ladies ...
September 2007 is a month Mets fans would like to forget, but it was the month I made my first trip to Shea Stadium. Star commenter and all-around awesome lady Metschick organized a Deadspin ladies get-together that included me, Lizabelle, Becky and some other friends. The Mets played the Phillies. It was a crisp, sunny day, with just a hint of fall in the air. I sent Becky and Liz on a wild goose chase around the stadium to find me a knish (sorry about that, girls). Greg Dobbs hit a pinch-hit grand slam just as Lizabelle clicked the shutter on her camera. The Phillies beat the Mets 10-6 and swept the weekend series. It was a wonderful day.
— Clare Perretta
•
Where Memories Take Wing
. 1988. As a kid growing up in Flushing, my friends and I used to walk to Shea Stadium for Mets games during the summer. It was a relaxed atmosphere (eh, we had heard all those words before), and $5 for an upper deck ticket. Although we occasionally snuck down to the 1st or 3rd base line, we enjoyed our time in the upper deck. On this particular day we decided to buy a gameday program and scorecard. Our intent wasn't to keep score (at the age of 14 I had no idea had to do so — sad, isn't it?). Instead we amused ourselves by holding a contest to see who could make a paper airplane that would fly the closest to the field. There were 4 of us, and we each made 2 planes. While my first attempt barely hit the mezzanine, one of my friends almost reached the Mets dugout. On my second attempt, I struck pure gold. As I let go of my plane, I could see almost immediately that it was headed for a group of people sitting around 10 rows up from the dugout. Off to the edge of this group was an enormous woman with an even bigger afro. As we realized what was going to happen, my friends and I started laughing uncontrollably. And then it happened — the plane got stuck right in this woman's hair and everyone around me (i.e. drunk, unemployed 31 year-olds) gave me high-fives. The woman remained oblivious for another 3 innings, and when she finally figured out what was going on and removed the airplane, the crowd around her erupted with laughter. Hey, it was 1988 — we figured we were guaranteed another World Series, so we didn't to actually pay attention to the games.
— BigTenObsession
•
Drinking It All In
. I was at a Mets-Yankees game at Shea, this was probably around 2003, Sunday Night Baseball. A few rows in front of my dad and I is your typical, drunk, obnoxious, early 20's, Yankee fan. Yankees take an early lead, and from every moment there on, whether it was a base hit or an average catch in the field, this Yankee fan would turn around, stand up, outstretch his arms in the air with this smug look on his face, not saying a word, taunting the crowd as if to say "Yep, that's right, we're the Yankees". He repeated this act a solid 3-4 times an inning. Flash forward a few innings, Mets take the lead, and coincidentally, Mr. Taunting Yankee fan isn't up to his usual routine because those few Bud Lights he sipped on has become too much for him to handle. He spends a solid 2-3 innings with his head down against the railing, until the ultimate climax occurred that everyone was hoping for. Mr. Can't Hold his Alcohol ends up puking all over the walkway in front of him. A few minutes later security comes to escort him out, as the entire section chants "You Can't Drink! You Can't Drink!" It felt like a MasterCard commercial; Tickets to game — $100, 6 Bud Lights — $40, Puking all over the ground, making an ass of yourself, while 100 people simultaneously chant and make fun of you — PRICELESS.
— Tom from Long Island
•
Family Values
. I only have been to Shea once. I'm a Yankee fan, but my grandmother is a Met fan. I took her to her first game at Shea when she was 70 years old. It was the classic 1999 game 6 play-off game when Robin Ventura hit his "grand slam single" in the 15th to win it for the Mets against the Braves. I know it doesn't sound like a great story, but if you could have seen how happy my grandmother was you would know how great of a memory that one and only trip to Shea was for me. Oh, and my parents saw the Beatles at Shea and still have their ticket stubs.
— John Frisone aka Upstate Underdog
•
Bat Day
. We were at a packed Friday night game in the late '80s, in just about the worst possible seats — upper deck, all the way out by the left field foul pole. The section was filled mostly with after-work drunks, but a few rows in front of us was a family, and in the first inning this little girl, maybe five or six years old, stands up and holds over her head a tiny piece of notebook paper on which she's written "Go Darryl!" or something like that. It was cute, but also kind of comical because the seats were about three miles from home plate and there was no way Darryl could have seen this sign without a telescope. So there's some laughter behind her, and then this one guy, just as a joke for his buddies, shouts "Down in front!" — as if this little girl and her miniature sign were obstructing his view of the action. But the girl hears him. She turns around, and cringes, and sits back down. The whole section starts unloading on this guy, which just makes it worse, because the little girl thinks they're booing her. Her dad puts his arm around her and says something, whereupon she bursts into tears. The abuse of this guy increases by a factor of about ten. Then a chant starts building in the section, and it takes me a minute to figure out what they're saying: "BUY HER SOMETHING! BUY HER SOMETHING!" So the guy leaves his seat, and an inning or two later he reappears behind the box where the family is sitting and taps the little girl on the shoulder. She turns around and with great ceremony he hands her one of those gigantic inflatable bats, probably twice as tall as she is. Her face totally lights up, we see her mouth the words "thank you," and the whole section just explodes.
— jondee